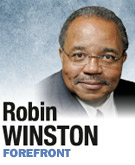 Campaigns have evolved from using "new" technology like "mail/merge," "laser letters," automated phone calls and personalized direct mail to Twitter, Facebook and myriad other social media networks.
Some candidates have been slow to engage social media components. This is done at their political peril.
An analysis conducted for our firm by Joshua Towns, founder of the not-for-profit online marketing firm CivicResound, showed that social media offered a strong predictor of the results of the Indianapolis mayor's race.
Here's an interesting statistic: If you subtract Melina Kennedy's 3,050 Facebook "Likes" and Twitter "Followers" from Mayor Greg Ballard's total of 11,584 in those categories, you get a number that is eerily close to Ballard's final margin of victory—7,531 votes.
We will track this data in future races to determine whether there continues to be any correlation to an online presence and the final electoral margins.
Voters who tracked the recent Indianapolis mayoral campaign also noticed how each candidate conducted themselves online.
When you are a public figure, filling out a social media profile can be a daunting task. Numerous photos, frequent posts and informative "bios" are par for the course. Beyond the basics, a misplaced "tweet" or sparsely decorated page can quickly put you in violation of the unwritten rules of the social web.
I am thankful to report that Kennedy and Ballard's respective campaigns put a significant amount of thought into their Facebook and Twitter profiles. Where possible, each page linked to campaign videos, incorporated custom design, and even allowed volunteers to register for their preferred tasks.
After Kennedy's primary victory in early May, she quickly went from 508 Twitter followers to more than 1,300 by November. Ballard's Twitter page gained relatively the same amount of followers during that time, but the manner in which he engaged them marked some stark differences.
According to Towns' research, the incumbent's campaign spent 27 percent more time than Kennedy replying and engaging directly with individuals in the "Twitter-verse," while Kennedy used her page in another format similar to journal entries. There is nothing wrong with those decisions, but voters can differentiate as they make their decisions of support.
Ballard's campaign deployed sophisticated use of "hash-tags," the online version of a slogan, and more frequent "re-tweeting," which is the promotion of others' Twitter posts. Ballard also used SocialOomph, a Web application that allows simultaneous posting on Facebook and Twitter, which enabled his campaign to engage more people using half the resources.
Based upon our reviews, it seems that social media can reward celebrity and longevity. Technology, in this case, is a double-edged sword that benefits early-adopters and exposes those who appear to have a time-sensitive agenda.
From a political perspective, what makes social media uniquely different from television spots or a yard sign is that good presentation requires years, not hours.
If you are going to go after an incumbent who already has online traction, the order of the day is, "Tweet early, tweet often."
So, why should campaigns care about these impacts? First, with more voters demanding online access to campaigns, rapid response and the ability to provide instant feedback, social media has become one of the main elements of campaigns.
Second, with campaign funds at a premium, reaching voters in a cost-effective manner is absolutely essential.
Third, if a campaign and/or a candidate cannot demonstrate capability to use technology, many voters will doubt that person has the ability to bring innovation and vision to secure the high-tech jobs of the future and to make fundamental changes in government.•
__________
Winston is president of Winston/Terrell Group, an Indianapolis-based government affairs, public outreach and community relations firm. He was chairman of the Indiana Democratic Party from 1999-2001. Send comments on this column to ibjedit@ibj.com.
Please enable JavaScript to view this content.