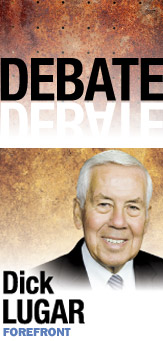 Question: Approval ratings of Congress are at historic lows—in single digits according to some surveys. What is the greatest source of the criticism, and what would restore the public's favor?
Answer: I am an optimist. I remain confident our government and our economy will rebound as it has before.
My approach in the Senate is to look at our state and national problems and try to solve them effectively, to put the best interests of the country and Indiana first, to create a better future, and to be as constructive as possible.
The current and justifiable discontent with Congress began in the summer of 2009 when President Obama and the two houses of Congress—then both controlled by Democrats—began pushing through the Obama health care plan rather than focusing on job creation and the economy. It has been a policy and political failure. Instead, I argued that we should focus on comprehensive tax reform to stimulate dynamic job-creating economic growth.
Obama's most recent failure to grow private-sector jobs was his decision to block construction of the Keystone XL oil pipeline. I wrote the law to force him to make a decision now, and will continue to work toward reversing his blockage. The project would create 20,000 jobs, directly affecting Indiana employers who would be suppliers, and is critical to our energy security.
The Obama administration has already spent three years contemplating this project to bring oil to U.S. refineries from friendly, secure Canada. During that time, Iran has made threats against oil shipments and the U.S. Navy. Libya had a civil war. Hostilities have continued in Iraq. Venezuela remains antagonistic to the United States. And there seems no end to the threat of terrorism against energy infrastructure in many regions.
Current congressional approval ratings are also down in part because the Republican House, Democratic Senate and Democratic president could not agree on a federal budget to slash runaway spending.
Republicans offered an excellent approach last year with the Ryan plan. It would stimulate economic growth, increase wages, and spur more private-sector jobs. The Republican-controlled U.S. House passed it. Senate Republicans supported it, but Democrats have a majority and defeated the plan. They even defeated the plan of their own president, leaving the federal government without a budget.
The Ryan plan would cut spending $6.2 trillion, far greater than the $1.5 trillion savings goal of the failed congressional "supercommittee." The Republican plan tackles reforming mandatory and entitlement spending. The plan saves Medicare, protecting benefits for those in or near retirement, and provides a sound system for future generations.
Pundits say the parties will remain lock-horned in 2012, each blocking potential successes of the other. It doesn't have to be so. In times of national crisis, such as after 9/11, Congress can move quickly. In fact, that was the only time congressional approval enjoyed a majority (56 percent) since the Gallup organization began tracking it in 1974.
Obama has sought political gain by attacking Congress rather than seeking agreement. Whoever is president should approve the oil pipeline, recognize the merits of a thoughtful Republican budget plan, and instead of calling for tax increases, begin the process of scrapping our current tax code and replacing it with the FairTax (which I support) or a flat tax (which would also be an improvement). That would be presidential leadership.
I have been a Rotarian since I came back to Indianapolis to help manage our family business after serving in the Navy. The Rotary motto of "service above self" has always been an important part of why I ran for Indianapolis school board, mayor of Indianapolis, and U.S. Senate.
Keeping that in mind for each of us would improve the performance of Congress and all public institutions.•
__________
Lugar, a Republican, is seeking re-election to the U.S. Senate. Send comments on this column to [email protected].
Please enable JavaScript to view this content.