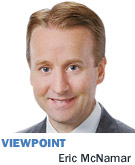 Can you live without a car? My wife and I did for six years in New York City. New York's vast mass transit system made owning a car unnecessary. So when we moved back to Indianapolis last year, we had to buy two cars. Having to buy two cars at once is a bit of a kick in the teeth.
I recognize that mass transit here is different than in New York. First, in New York, mass transit goes everywhere and is often the easiest way to get around. Second, mass transit is well-accepted. Indeed, you may find yourself standing on the subway next to Mayor Bloomberg or sitting on a bus next to a socialite in a full-length fur.
For me, going to and from work via the subway was great. I was free to read the paper or a magazine or even check e-mail, and my transit costs were subsidized by my employer.
My wife and I also relied on the subway and the bus during the weekends to explore other neighborhoods, take our daughter to swim lessons, or even meet up with other displaced Indianapolis Colts fans to watch the games.
And when we had to catch a flight, the mass transit system was the best way to get to any of the three local airports, not to mention being the cheapest option by far. Even though our housing costs were steep, we rarely spent more than $150 a month on transit and much of that was subsidized.
In contrast, when we began planning our return to Indianapolis, we recognized that, once again, we either would have to walk or drive to get to where we need to go, and we had to budget accordingly. Specifically, we had to set aside enough funds to buy two cars and pay for insurance and gas.
We bought cars based on day-to-day needs, safety, reliability and fuel economy. The last parameter played a significant role now that gas prices average over $3 per gallon versus $1.75 per gallon when we moved away in 2004.
While moving back to Indianapolis has allowed us to cut our housing costs substantially, having to buy and operate two cars essentially negates that benefit.
Becoming a one-car family is not workable for us. Even though our house is on one bus line and near another, and I would like to commute by bus—I can't. I work in Carmel, but IndyGo does not go beyond 96th Street. My wife is able to walk our daughter to school and the library, but IndyGo does not meet her daily needs, either.
Nevertheless, we have looked into using IndyGo at other times. We have considered going to dinner downtown by bus, but we would have to catch a bus around 6 p.m. so we could eat and catch the final bus back home at around 9 p.m. Seeing a show or grabbing a drink after dinner wouldn't work.
Indianapolis is a great city. Why else would it be chosen to host a Super Bowl, numerous Final Fours and countless other events? We looked forward to moving back. However, we did not look forward to having to drive everywhere or incurring the costs to do so.
I strongly encourage our local leaders to build a strong mass transit system. A strong system can provide tax benefits to employers, broaden employers' pool of potential employees, reduce traffic, aid tight home budgets, and generally improve the quality of life by making owning a car more of a luxury than a necessity.•
__________
McNamar is an attorney at Keller Macaluso LLC in Carmel. Send comments to ibjedit@ibj.com.
Please enable JavaScript to view this content.