As this issue of IBJ hits news boxes, the Super Bowl will finally be upon us.

But as I write this, the big game is still a few days away. That means just about every arts organization in town is either ducking for cover or focusing on the game. Which means finding something new to review wasn't easy.

Thank goodness for Mr. Potato Head.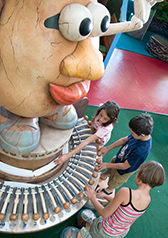 One potato, two potato: There's plenty of tuber fun at The Children's Museum of Indianapolis. (Photo courtesy The Children's Museum of Indianapolis)
The guy with the detachable eyes and a rear end built for storage is the subject of an interactive exhibition at The Children's Museum of Indianapolis running through May 6. It's geared to the preschool set, but I opted in, anyway.

While it seems everyone knows Mr. Potato Head, the truth is there really isn't that much to know. Unlike the subject of the Barbie exhibit, Mr. PH doesn't have a storied history or a closet full of designer outfits. The only fact even toy buffs

might retain about him is that he was originally just a set of attachments meant to accessorize actual potatoes.

Created in 1949, Mr. Potato Head was an early beneficiary of television advertising. He and the Mrs. got a further boost when they became key characters in the "Toy Story" films. Before the films, he never really had that much personality. All we knew about him in the early years was that he was a smoker—early kits included a pipe.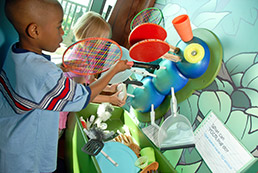 Kids make animals out of odd objects at an interactive station. (Photo courtesy The Children's Museum of Indianapolis)
The show at the Children's Museum, labeled "The Adventures of Mr. Potato Head," doesn't delve into the product history the way the Barbie show does. It's too busy having fun. Instead, it uses the familiar tuber to launch kids into hands-on activities. There's a bin of PH parts, of course, but there's also creative problem-solving stations, hand-eye coordination maze puzzles, sea-horse races, a crawl-through space station, places to create imaginary creatures, and a lot more.

It's a smartly put together package, using a familiar face to get kids moving, testing, exploring and interacting. "The Adventures of Mr. Potato Head" is a small-scale show, but one with charming surprises at every turn.

And, no, I don't want fries with that.
__________

Life got in the way so I didn't get a chance to write about 500 Clown's January performance at The Studio Theatre. But I don't want to overlook one of the most exciting theater performances I've seen here recently—one that also represents a significant step in the early evolution of the Center for the Performing Arts.

It's perfectly understandable that much of what gets staged at the Palladium and its satellite spaces is geared toward big crowds. Seats have to be filled in order for bills to be paid. Besides, popularity isn't automatically inversely proportional to artistic credibility.

But for a performing arts center to truly thrive, it needs to dance near the edge at least once in a while. And the risk-taking audience members who took seats for 500 Clown's "Frankenstein" were privy to a show whose rhythmic risks were on par with its physical risks.

The jaw-dropping acrobatic feats by the Chicago trio weren't only free-standing virtuosity demonstrations, but also oddly integral parts of an ultimately devastating whole. The threesome, with the audience as accomplices, spoke to the wonder and fragility of the human body, the power of a mob, and the soulful ache of the theatrical arts. And, in the process, they took an overly familiar story and breathed new life into it.•

__________

This column appears weekly. Send information on upcoming arts and entertainment events to lharry@ibj.com.