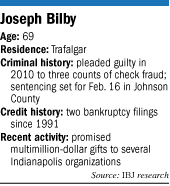 Joseph Bilby's Trafalgar home is listed for sheriff's sale.

He's filed for bankruptcy protection twice since 1991, and in 2010 he pleaded guilty to three counts of check fraud.

Yet leaders of several Indianapolis cultural institutions believed, at least at first, that he was good for multimillion-dollar gifts. The Eiteljorg Museum of American Indians and Western Art even announced a $17.1 million pledge from him on Nov. 10.

Now Bilby is delaying payment, and behind the scenes, not-for-profits are writing off weeks they spent with a potential donor whose story they now fear is bogus.

People familiar with Bilby say he made overtures to major Indianapolis institutions—museums, universities, even a hospital—and promised staggering eight-figure sums. In one version of Bilby's story, he became wealthy by selling a health-care-related business more than a decade ago. In another, he's the beneficiary of a trust that, until recently, was unknown to him.

A distinguished-sounding 69-year-old, Bilby seemed to appear out of nowhere last fall. Though he wasn't known in philanthropy circles, he aligned himself with the influential estate lawyer Dan Yates at Bose McKinney & Evans.

Yates sits on the board of trustees at the Indianapolis Zoo and has served on boards at the Eiteljorg, Indianapolis Symphony Orchestra, The Children's Museum of Indianapolis and St. Vincent Hospital Foundation.

Yates wouldn't talk about Bilby, other than to say that he no longer represents him. If the gifts never materialize, Yates said, "It would be, I'm sure, too bad for the organizations and a disappointment."

Bilby had planned to go public with his pledges during a Jan. 26 meeting at Meridian Hills Country Club, but he canceled late in the afternoon the prior day.

Tom Hirschauer, president of advertising and PR firm Publicis Indianapolis, sent an e-mail to the invited parties on Bilby's behalf. The message, which IBJ obtained, said "the donor" had been advised to remain anonymous, and that his contributions would be distributed through a donor-advised fund.

A donor-advised fund is a charitable-giving vehicle administered by a separate not-for-profit. (The Central Indiana Community Foundation, for example, manages several donor-advised funds set up by families or organizations.) Hirschauer's e-mail didn't name the donor-advised fund or its manager. "The timing of the funding will be communicated at a date to be determined," he wrote.
Vanausdall
Eiteljorg CEO John Vanausdall confirmed the lunch meeting was related to the major gift he announced in November. Vanausdall declined to talk about the donor, whom he'd agreed to keep anonymous.

"We're very hopeful this gift gets fulfilled," Vanausdall said. If that happens, the $17.1 million would be the largest gift in the museum's history. The money would go toward the Eiteljorg's endowment and pay for the addition of interactive features to entice visitors.

"Everything that's happened causes us to be hopeful," Vanausdall said. "We're still hopeful."

Hirschauer wouldn't confirm the donor was Bilby, saying only that he had a client who wished to remain anonymous. However, he and Yates were copied on a Jan. 4 e-mail Bilby sent to organizations he'd made pledges to, explaining why they hadn't received payments.

"Dear Recipient," Bilby wrote. "You have been patient, kind and supportive. I suspect that you are also anticipatory, nervous and puzzled."

Bilby blamed that delay on his New York financial advisers changing their minds about "how best to fund you, including what payer source and taxable year to use."

Making promises

Bilby signed a pledge agreement with at least three organizations—the Eiteljorg museum, symphony and zoo—according to people familiar with the agreements.

One person who has served on the boards of multiple organizations said she knew of six not-for-profits that had signed agreements with Bilby, though she declined to name them. Asked whether the money was likely to be forthcoming, she said, firmly, "No."

Others familiar with Bilby's pledges say they total at least $100 million.

Not-for-profit executives contacted by IBJ said they were obligated to keep donors' information confidential and thus could say little about Bilby.

Jeffrey Patchen, CEO at the Children's Museum, would say only that Bilby is a "friend of the museum."

Karen Burns, senior vice president of external relations at the zoo, said she could not confirm the existence of any anonymous pledges. However, Burns added that the zoo, which is trying to raise $30 million for a new orangutan habitat, hasn't spent money or taken on debt based on an anonymous pledge.

The symphony is in the midst of a $100 million campaign to build its endowment and cover current operating costs. CEO Simon Crookall couldn't be reached, but spokeswoman Jessica DiSanto said the ISO hasn't announced, and doesn't intend to announce, a gift or pledge from "anyone with the name that you inquired about."

Bilby declined to talk about his pledges.
"I don't think that would be appropriate for me to do," he said when reached on his cell phone. "I just prefer not to talk [publicly] about this."

Money troubles

Not-for-profits can sue to enforce pledge agreements, but it rarely happens.

In any case, Bilby and his wife, Patricia Jefferson-Bilby, don't appear to be wealthy.

Their home at 2832 S. County Road 475 West in rural Trafalgar is listed for sale on Feb. 16 by the Johnson County sheriff. Peoples Home Equity is hoping to collect on a judgment of $434,548.

The Bilbys managed to keep their home after a 2002 bankruptcy filing. During that case, Bilby faced a lawsuit from Physicians Homecare, an in-home-care company in Lafayette that he had tried to purchase.

Co-owner Michael Drayer said he and his wife went so far as to tell employees they were selling the business, but Bilby never showed up for the closing. The Drayers received a judgment of $421,926, but Drayer remembered receiving only a few thousand dollars.

Drayer said he never learned much about Bilby or his source of income, but he seemed reputable. He had been referred by an accounting firm in Indianapolis, and his wife is dean of the School for Adult Learning at the University of Indianapolis. A UIndy spokesman said Jefferson-Bilby still holds that title but is on a two-month leave of absence for personal reasons.

Drayer takes the blame for not digging below the surface. Bilby is "a believable guy," he said. "He sees himself as very important. I think he lacks a touch of reality."

Bilby faced three counts of check fraud in February 2008 after being accused of passing more than $60,000 in bad checks to two local contractors who were building barns for his horses.

"He claimed all along when we started that he had a huge amount of money, $700,000, coming from a fund," said A.G. Bryant of Edinburgh, who framed two large barns before stopping work. "He kept telling us it was going to be in the next week or so."

Bryant got along well with Bilby and called him "a real nice guy," but he learned not to believe his promises.

Bilby pleaded guilty to the check-fraud charges on Oct. 7, 2010, but his sentencing has been delayed to Feb. 16. He has made restitution to Bryant and the other contractor, Coy Commercial Metal Roofing of Trafalgar.

It's rare for major donors to appear out of nowhere, said Ernie Vargo at the Eskenazi Health Foundation, which he said is not one of the places where Bilby pledged money.

"We know who most of the major funders are," Vargo said.

Organizations try to vet potential donors, Vargo said, but added, "We're in the business of trusting people. How far do you go without ruining the relationship?"

One fundraising professional who'd heard the story about Bilby's trust fund, which was supposed to have been set up in the 1940s, said it raised a number of questions in her mind. For one, wouldn't an unclaimed trust have been turned over to the state after several years?

"That's why it all sounds kind of odd to me," she said.•