The 2-year-old venture development firm DeveloperTown has reached a milestone, with the first sale of a company it helped fund and coach.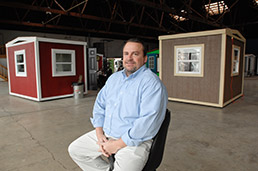 John Wechsler is a partner at DeveloperTown south of Broad Ripple. The firm coached 24 technology companies last year. (IBJ Photo/ Perry Reichanadter)
Indianapolis-based Daily Lunch Deal LLC sold last month—after just one year in business—to Crusader Deals Enterprises, a Tampa-based consolidator of daily deals websites. Terms weren't disclosed.

Ordinarily, it takes a company years of toil to achieve what Daily Lunch did, said DeveloperTown partner John Wechsler. He lauded Daily Lunch co-founders Robert Baer and Joel Curts.

Their success speaks well of DeveloperTown, which coached the firm and had an equity interest in the outcome.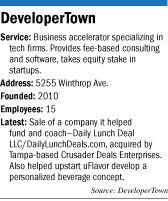 "It's such a collapsed time line, it's nice to validate what we do in such a short time … . It's our first portfolio company to experience an exit event," Wechsler said.

"You just don't know what you don't know until you do it full time," said Baer, who left the firm for his day job at Angie's List following the sale.

Co-founder Curts remains on board and is helping Daily Lunch convert to Crusader's format. That includes expanding daily deals to product categories such as massages and travel.

DeveloperTown "found some chinks in our armor," Curts said of the 15,000-subscriber DailyLunchDeal.com, adding that the venture coaching the company received was the biggest benefit derived from DeveloperTown.

DeveloperTown, situated along the Monon Trail south of Broad Ripple, is the antithesis of the traditional venture/consulting found in a suburban office park.

Inside a former manufactured housing complex at 5255 Winthrop Ave. are dozens of wooden sheds. Adorned in bright colors and trimmed with windows and doors, they look almost like props from "Barney & Friends."

A software developer or other DeveloperTown specialist resides in each of the sheds, which are clustered according to a particular project. The sheds provide enough isolation so that programmers aren't distracted, yet windows allow a quick shout-out to other team members. Each can paint and outfit a shed according to his or her own liking.

DeveloperTown principal Michael Cloran got the idea for sheds after watching a video about animation studio Pixar. But Cloran suggested putting wheels on the sheds so a developer who is moving on to work with another team can simply unplug the electric and phone lines and roll the shed to a new neighborhood in the complex.

Unlike the 35,000-square-foot former manufactured housing plant, which still smells of wood courtesy of its massive wooden rafters, "we build houses and push them in," Wechsler said.

The place is tailored to young software developers and entrepreneurs. For those who ride their bicycles to work on the Monon Trail, there are showers. In one corner of the cavernous complex is a loft and puffy chairs for kicking back and brainstorming.

On the east end of the complex is a conference hall with a stage and a pingpong table. An employee's dog roams into a conference room to have its ears scratched. Park 100 this ain't.

Eclectic client mix

Baer and Curts hooked up with DeveloperTown in a roundabout way. Wechsler, who previously worked at Formstack, in California, was a customer of Daily Lunch. He submitted a comment suggesting how Baer and Curts could improve a form on the site.

Wechsler later became a principal at DeveloperTown.

Besides offering venture coaching and putting in a small equity stake in Daily Lunch, DeveloperTown invited in 35 investors to whom the duo made a pitch for funding. In the end, they didn't need it, what with Daily Lunch selling to Crusader.

Baer, who will "definitely be back in the game" of entrepreneurship later, said learning how to make such a presentation was invaluable experience.

While Daily Lunch was its first exit, DeveloperTown last year had 24 engagements with upstart businesses as well as with large, established companies for which it works on a fee basis for services such as code writing.

Established clients range from Indianapolis-based Kiwanis International to a Fortune 500 pharmaceutical firm.

In some cases, DeveloperTown provides executives to help run emerging companies. Wechsler, in fact, serves on contract as CEO for Indianapolis-based Musical DNA. Founded by musician Ken Lemons, the company created a way to see and sculpt music using shapes and colors.

Key to DeveloperTown is a 15-person staff of mostly entrepreneurial-minded technologists. Among them is Matt DeLeon, a 20-something who graduated from Indiana University with three degrees and has founded or co-founded four tech firms. One of them, Fruitocracy, delivered health food to students at IU dormitories. Some of these young talents otherwise would be a "flight risk" to tech bastions such as the Silicon Valley, Wechsler said.

"What you find here is a very strong passion and interest in entrepreneurship."

Gravity effect

To that extent, DeveloperTown is also serving as a gathering place for like-minded tech entrepreneurs from around the region. The firm's headquarters, purchased and redeveloped through a two-year property tax abatement from the city, last July hosted a meeting of central Indiana tech startups and investors, known as Innovation Showcase. About 1,000 people attended the event co-sponsored by Verge Indy and Venture Club of Indiana.

As for DeveloperTown's growth prospects, Wechsler figures it's not inconceivable that the staff could double in the next few years. Nor is it out of the question that it could expand geographically to other cities. Even cities such as St. Louis or Minneapolis have a comparatively undeveloped tech entrepreneur infrastructure.

DeveloperTown is already profitable, Wechsler said.

"We run lean, as you can see," he said, pointing to the sea of wooden sheds.

Tinderbox, EX2 Partners, Profyle Tracker, the Law Office of Brian Powers and NPower Indiana are among the businesses that have located their headquarters at DeveloperTown.

NPower provides technology services to not-for-profits. Its CEO, John Fallon, discovered that this neighborhood takes a little getting used to. The past president of Eastern Michigan University recalled coming into the building one day following an event at DeveloperTown, at which the sheds were rolled around to make space.

"I looked for my office," Fallon recalled. "It was gone."•