Excitement, 5-hour Energy drinks and love fueled Kylie Beaudreau as she logged 100 hours serving burgers and cooking at two downtown restaurants during Super Bowl week.

"Everybody's coming to spend money," said Beaudreau, 22, who hoped to rake in $3,000 at the Colts Grille and the Tilted Kilt to pay for her wedding in May.

There's no doubt the Super Bowl crowds showered Indianapolis with cash all week.

The question is, how much of it will stick after the big game is over? And how much will it mean to Indianapolis' economy?

An estimated 150,000 visitors were expected to spend roughly $150 million in Indianapolis, according to projections by the Indianapolis Convention & Visitors Association and PricewaterhouseCoopers. And with record crowds showing up, those numbers could end up being even higher.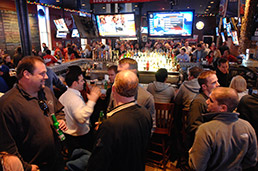 Kilroy's Bar N' Grill on South Meridian Street added nearly 30 workers to handle Super Bowl revelers such as this crowd, which gathered on Feb. 1. (IBJ Photo/ Perry Reichanadter)
In normal circumstances, those dollars would swirl through the Indianapolis economy, producing other spending that pushes the economic impact to $300 million or $400 million.

The Super Bowl, however, is anything but normal. Many sports economists say much of the money spent here will disappear faster than a zipline rider whizzing over Capitol Avenue. That could reduce the true impact to $100 million.

That's still great news to the restaurants, bars, hotels and other retail businesses near Super Bowl Village—and the workers, like Beaudreau, who make them hum.

But even the millions the Super Bowl crowds spend will be a drop in the bucket compared with the $105 billion in goods and services produced every year in the Indianapolis metro area. So expect the benefits of the game to be more emotional than economic.

"This is a fun and exciting event for Indianapolis, but it's not going to make everybody rich," said Victor Matheson, an economist at the College of the Holy Cross who has written numerous articles on the economic impact of the Super Bowl and other mega sporting events.

Perhaps if local consumers spend more, businesses will feel confident about expanding and hiring, said Kurt Rankin, an economist at Pittsburgh-based PNC Bank who tracks the Indianapolis economy. That kind of broad movement could lift the Indianapolis economy far more than the dollars spent during the Super Bowl.

"The Super Bowl—the best thing it can provide to Indianapolis right now is a boost to consumer confidence," Rankin said.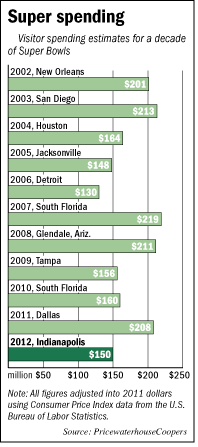 But Indianapolis leaders insist the Super Bowl will prove to be a big economic win: in direct visitor spending, in boosting the city's image, and in attracting more convention and tourism business.

The Indianapolis Super Bowl Host Committee is working with economists at Indiana University's Indiana Business Research Center to produce an economic-impact report after the game. It is expected to be issued in April.

"If it's between $150 million and $400 million, it's worth it," said Mark Miles, chairman of the host committee. He said spending to host the game totaled $37 million, with $8 million footed by taxpayers.

Miles also noted the Super Bowl created a "catalytic effect" that helped the city and private businesses complete a host of improvements.

"Cities are in a race against other cities, against other regions," he said. "The more you can do faster, the better."

Emptying wallets

Scads of local residents enjoyed one of those improvements—the transformation of Georgia Street into a pedestrian walkway—in the days leading up to the Super Bowl. More than 200,000 came down on the opening weekend of festivities, and crowds remained thick through the following week.

"I've never seen it like this," said Indianapolis resident Jack Hignite, who wore a Pittsburgh Steelers jersey as he sat on the base of a light post, looking down Georgia Street.

Hignite, 44, visited the Super Bowl Village with his wife on Jan. 31 and Feb. 1 to eat dinner, have some drinks, and listen to concerts on the stage on Pennsylvania Street, right outside Bankers Life Fieldhouse.

Even before grabbing dinner on Feb. 1, Hignite, estimated he'd already spent $200—about $50 of it to cover the jacked-up costs for parking.

But spending by locals doesn't really count toward the Super Bowl's economic impact. Economists figure locals would have spent those dollars somewhere else in the local economy—even if the Super Bowl hadn't come to town.

What is valuable is spending by out-of-towners, such as all the New England Patriots and New York Giants fans who began flying in Feb. 2. And the Super Bowl's tradition of so many visitors with corporate spending accounts has made it a coveted event since the game was first played in 1967.

Spending projections for Indianapolis were not as high as for Dallas last year, in large part because the Dallas stadium could host significantly more fans than Lucas Oil Stadium and because Indianapolis has fewer hotel rooms than the typical Super Bowl city, said Robert Canton, director of the sports and tourism practice at the accounting and consulting firm PricewaterhouseCoopers.

By necessity, some of the spending was pulled outside of Indianapolis—or simply never happened because hotel rooms couldn't be booked.

Glenn Brooks, vice president of Indianapolis-based General Hotels Corp., said its hotels in Kokomo and Lafayette were filling up. However, Brooks said his hotels in Terre Haute, which he expected to benefit as well, had seen no appreciable spike in business as of Feb. 1.

Indianapolis' colder climate also bumped the numbers down, although it turned out Indianapolis had better weather than Dallas' snow storm of last year.

But working in Indianapolis' favor is the fact it's within a 12-hour drive of far more people—particularly people in cities with NFL teams—than coastal Super Bowl hosts such as Miami, Tampa, Houston and San Diego.

"It has a unique ability to draw from the surrounding region," Canton said, mentioning such cities as Chicago, St. Louis and Cincinnati.

Four friends from Cincinnati—Keith Adams, Jason Martini, Matt Rybolt and Nick Oshel—took the day off Jan. 31 and made the two-hour drive to hang out in Indianapolis.

After catching "The Dan Patrick Show" at Victory Field, they waited on the sidewalk outside Buffalo Wild Wings to get a table for lunch.

"Since it's a local drive, it's easy to get to," said Martini, 28, who had never been to any Super Bowl festivities before.

The money the four dropped on parking and lunch represented a boost to the Indianapolis economy. But the $25 they each plunked down later at the NFL Experience flowed mostly back to New York, where the National Football League is based.

That same kind of "leakage" will zap some of the spending made at hotels owned by out-of-town corporations—which describes most of downtown's hotels—and restaurants with out-of-town ownership.

The ICVA estimates that about one out of every five dollars spent during Super Bowl week—or $32 million—will leave the city and go back to the corporate headquarters of the businesses that earned it.

Of course, local workers at those businesses still benefit. ECU Staffing Multi-Services Inc. received orders from the NFL and hotels for 150 temporary workers, logging 4,800 hours, during the 10 days leading up to and immediately after the Super Bowl.

That was triple the orders the company typically receives in a week in February—or about $50,000 in extra business, said Fernando Aguilar, vice president of operations at Indianapolis-based ECU.

ECU hired all local workers, but that wasn't true across the city. For example, Howl at the Moon piano bar on Georgia Street brought in 10 workers from its locations in other cities: Chicago, Louisville and even San Anontio.

Some other restaurants did the same, meaning the extra money those workers earn will leave Indianapolis when the workers do.

Hungry for customers

Not all businesses were seeing a payoff from the Super Bowl crowds.

There was so much to see and do in the Super Bowl Village along Georgia Street and Capitol Avenue that people weren't wandering far from it.

Chef Joseph's, at 115 E. Ohio St., boosted its staff in expectation of big crowds, but as the game approached, they hadn't materialized.

Cab driver Michael Tedla said he actually was making less money because the closure of so many downtown streets meant he spent most of his time crawling in traffic. He is not allowed to run his meter until he gets up to 15 mph.

"The traffic's too bad," said Tedla, 68, waiting for a passenger in his bright green AAA Ambassador Taxi, outside the Hyatt Regency hotel. "The authorities, the city people, should give spaces for the transportation people, so we can go any route."

Chris Burton, managing partner at Kilroy's Bar N' Grill, paid a parking lot on New Jersey Street—well east of the Super Bowl action—$20 per day for several days for 20 of his workers who had no other way to get to the restaurant on South Meridian Street.

"Every part of our overhead has increased," Burton said. But with huge crowds and a 30-percent bump in prices to Kilroy's menu, Burton was still hopeful the Super Bowl would pay off.

"It'd better," he said.

City leaders are in the same position—hoping for a big payoff. Since two-thirds of Super Bowl visitors are corporate executives or decision-makers, Indianapolis' host committee hopes the game leads to future investment here.

Add in the coverage from 5,100 news media professionals and the game-time exposure before an estimated TV audience of 110 million people, and it's a dream for the folks trying to market Indianapolis as a convention and tourism destination.

"When you're in the business of marketing a city, it goes a long way toward changing brand perception," said Chris Gahl, the ICVA's vice president of marketing.

That already has borne itself out in the nearly four years since the National Football League selected Indianapolis to host the 2012 Super Bowl. But Mike Hicks, an economist at Ball State University, said successfully hosting the event will be an "inflection point" for Indianapolis' convention and tourism business going forward.

For those reasons, Hicks estimated in a 2008 study that the Super Bowl would produce a $364 million impact on the region.

"The Super Bowl effect isn't just the Super Bowl," Hicks said. "It's, now that the Super Bowl has been here, and all the Super Bowl improvements have been made, we're going to have an increased economic activity."•