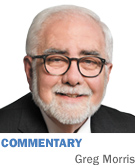 Now that there's time to take a breath, I want to share some personal experiences from Super Bowl-related activities the past few weeks. I tried to stop the daily madness of work and life and fit some time in to be in the moment. That turned out to be a good strategy and it paid big dividends.

I don't want to rehash all the analysis that has been done already, but I want to say thank you to everyone who made such a positive contribution to achieve this great moment in Indianapolis history. There are thousands of you. As community stakeholders, we all wanted Indianapolis to hit it out of the park and that certainly was accomplished. It was an amazing performance by some of the best minds and people on the planet. The Indianapolis region will reap the rewards of all the hard work for years to come.

As it's been said many times already, this is only the beginning. It's not the end of a successful sports strategy implemented many years ago; it's the start of taking things to the next level and using the Super Bowl success as a springboard to accomplish even greater things. The sky's the limit.

Here are some personal observations. First, my invitation to the game blew off my desk at some point, and I wasn't willing to pony up scalper ticket prices, so I didn't attend. But that didn't matter. I still thoroughly enjoyed the experience.

My big takeaway is that if there was any doubt the NFL is king, just hang around the week before the Super Bowl. I've been to a previous Super Bowl, but I don't believe anyone who hasn't can grasp how immense this event really is. Words can't describe it. You have to see it and experience it to process it. This was a great opportunity to experience the spectacle of it all.

And here's the really great thing. You don't have to go to the game to feel like you're in the center of the action. You don't have to have the big bucks to pay more than $3,000 a ticket to enjoy yourself. There's plenty to do that doesn't cost much at all. My night in the Super Bowl Village on Georgia Street the Wednesday before the game was an inexpensive evening. Yet, it was tons of fun.

I picked that night because Indianapolis' own Meatball Band was playing on the Pepsi stage. Former IBJ President and Publisher Chris Katterjohn plays bass guitar in that band. Chris and the band did themselves and the city proud. When I looked up at one of the centrally located giant video screens and saw a close-up of Chris jamming on his guitar, I knew he had really made the big time!

The public safety aspect of events was outstanding. As large as the crowds were all week, I always felt safe. The police did a tremendous job of keeping order while projecting the friendliest manner possible. I liked the festival feel of the whole setup in the village. Again, much has been written about what we can do with Georgia Street in the future. I like the idea of a big summer music festival. But several smaller ideas are needed to fully utilize this new great venue.

I attended a few very nice company parties. Thanks for the invites; the parties were great fun. I think my favorite event was the Taste of the NFL at Gleaners Food Bank. This was the 21st annual "Party with a Purpose." The goal is to raise awareness and funds to fight hunger in this country. Net proceeds went to Gleaners and food banks in the other NFL cities. The Gleaners facility was amazing. I'd never seen that operation firsthand, but I'm going to make a point to arrange a full tour soon. I want to know more about how I can help Gleaners continue its great mission to fight hunger here in central Indiana.

My adrenaline from the Super Bowl is still pumping strong. Let's do this again soon!•

__________

Morris is publisher of IBJ. His column appears every other week. To comment on this column, send e-mail to gmorris@ibj.com.