Dear Suburban Folks Who Rarely Come Downtown But Did for Super Bowl Activities:
Like many of you, I spent the early days of February bathed in Super-Bowl-related activity (most of which I documented on my blog at ibj.com/arts and on Twitter: IBJArts).
Rather than recap those A&E events here, though, I hope regular readers of these pages will indulge me for a moment as I address those of you from the near suburban north, south, east and west who used the NFL hoopla to make a rare visit downtown. (Those of you who regularly visit are welcome to stick around and listen in, of course.)
No doubt you had a blast experiencing Indy's overwhelming hospitality and wide array of offerings. But at the risk of sounding condescending (something an irate Madonna fan accused me of after reading my review of her halftime show), I wanted to make sure you are aware that downtown Indianapolis exists 52 weeks a year. And it's worth taking the time to visit during just about any of them.
It's one of the friendliest and cleanest cities I've ever visited—and it's very walkable (even more so now that the Cultural Trail is almost complete). It's got a Central Library that's easy to lose yourself in (in a good way) and monuments to spare (If you haven't yet been inside the Indiana War Memorial, by all means go).
And while on an average weekend in the Mile Square, you won't find a zipline or hamster wheel, you will find parking remarkably cheaper than when top NFL teams butt heads at Lucas Oil Stadium.
What will you do once you park?
Well, OK, Darius Rucker or Patti LaBelle don't sing on free street stages when there's no big game to play—and the Huddle at Circle Centre has gone back to being a department store shell (at least, for now). But there are free concerts at the Artsgarden and, in warmer months, near-constant music from downtown festivals and White River State Park concerts.
You won't find innovative art in the old Indianapolis City Hall now that the "Turf" show has closed (powers that be: Think "future art center"). But on any given first Friday of the month, there are art openings at galleries throughout downtown and along Mass Ave. And those same galleries are open throughout the month for your browsing and (no pressure, of course) buying pleasure.
And you know all those places in White River State Park that held all those fancy parties? Well, they've got exhibitions all year long. There's an upcoming one opening at the Eiteljorg Museum of American Indians and Western Art focusing on motorcycle art, one coming to the Indiana State Museum about the ground-breakers who founded New Harmony, and while the Indiana History Center is technically not a WRSP facility, you only have to cross the street or walk farther up the canal to get to it. Still got sports on your mind? There are interactive sports exhibits at the NCAA Hall of Champions and just a bit farther north, the National Art Museum of Sport.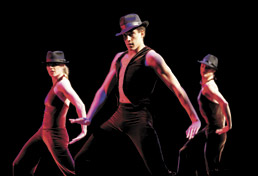 Dance Kaleidoscope adds razzle-dazzle to downtown Indy. (Photo/Crowe's Eye Photography)
And while Lucas Oil Stadium, Victory Field and Bankers Life Fieldhouse (I'm still getting used to saying that) are known for dramatic conflict, there are also some pretty intense conflicts worth witnessing on the stages of the Indiana Repertory Theatre and the theaters of nearby Mass Ave. Athleticism applies to dancers, too (see Dance Kaleidoscope).
Oh, and you know that place that served as Jimmy Fallon's studio? Well, first of all, unlike what Fallon's warm-up guy called it, the joint isn't the Herbert Circle Theatre. It's the Hilbert Circle Theatre and it's home to a fine bunch of musicians known as the Indianapolis Symphony Orchestra who create a new concert just about every week of the year, bringing in top-notch guest artists to join them.
Now, I'm no Pollyanna. Downtown Indy isn't yet what it could be—and there's plenty of room for improvement both with the individual attractions and range of offerings. But there's no reason those of you who had a rare downtown Indy experience shouldn't return again soon.
I'll do my best to recommend some of the city's most potentially interesting events. (You can sign up for my weekly e-blast here: http://www.ibj.com/newsletters.) And I encourage you to commit yourself to getting downtown at least once a month to take advantage of some of the big benefits of living in an outstanding city that's suddenly on the national radar—and should be on yours.•
__________
This column appears weekly. Send information on upcoming arts and entertainment events to lharry@ibj.com.
Please enable JavaScript to view this content.