Oddly parked in Park 100, A Taste of Europe (4320 W. 96th St., 334-8797) should, ideally, be in a densely packed neighborhood where parents shout to one another from open windows, folding chairs in front of stoops serve as home to philosophical discussions, and the essential ingredients for Old Country meals can be picked up from purveyors between the bus stop and home.

Forgive me the fantasy, but a taste of the sausages and brats from this out-of-place café can have that effect.

Those dining in should know that A Taste of Europe is pretty much a one-man operation. That one man, Lou Mladenovic, is a native of Yugoslavia who emigrated from France in 1973. He owns a catering business in Crown Point, but this is his first restaurant.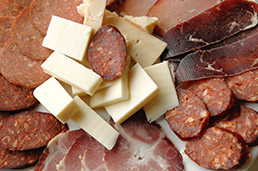 Imported cheese and a range of sausages and meats are specialties at Taste of Europe. (IBJ Photo/ Perry Reichanadter)
On our visit, Mladenovic was friendly and patient, giving us plenty of time to figure out the menu, which is scrawled near the cash register. He quickly dismissed my question about whether he had an online menu as if I had asked whether trolls made the food.

In another restaurant, I might have been annoyed. Here, it was part of the charm.

My mistake on first visit was allowing my guests to think like Americans. At the deli counter, surrounded by imported groceries and baked goods, they lacked a sense of continental adventure—and wound up disappointed. Neither the monster of a Pljeskavica mixed-meat hamburger nor the chicken hot dog ($7.99 and $3.99, respectively, with bland fries) came close to the American versions they are used to.

But the Grah-Psulj Bean Soup ($6.99)? Now we're talking (with an accent). With a thickness just short of chowder, it featured a hodgepodge of chicken and beans that felt lovingly passed down through generations. And the only thing disappointing about the grilled Chicago-style Polish sausage sandwich was that its bun cut back on the pure meaty goodness (we had already sampled a variety of deliciously encased meats when the proprietor offered us samples). Next time, a plate of simply grilled meats and maybe a dollop of imported mustard will do just fine. Taste of Europe's lineup includes German brats, knockwurst, Irish sausage (made with corned beef), and skinless cevapi.

Closing out the meal with Taste's variation on a Polish ambassador cake was another good move—its checkerboard vanilla and chocolate squares and none-too-sweet frosting are ideal to fork over coffee and conversation.•

—Lou Harry

__________

Second in a month-long series of looks at new north-side restaurants.