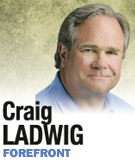 There was more, more, just inside the door
In the store, in the store.
There was more, much more, just inside the door
In the corner grocery store.—Raffi, "The Corner Grocery Store Song"
He was what we once called an ordinary American, a poor man's capitalist growing up in an iconic corner grocery where his mother managed the cash register in front, his dad cut meat in back, and he and his sister stocked shelves between.
Charles Murray in his latest book "Coming Apart" warns that we are running out of such people. The citizenry once was salted with them—men and women who made things or packaged things or sold things, stocked things, grew things.
"As the new upper class increasingly consists of people who were born into upper-middle-class families and have never lived outside the upper-middle-class bubble, the danger increases that the people who have so much influence on the course of the nation have little direct experience with the lives of ordinary Americans, and make their judgments about what's good for other people based on their own highly atypical lives," Murray writes.
Gone are the successful Americans who came from homes where, "How's business?" was the question over a game of Pitch or Euchre at a tiny kitchen table in a two-bedroom, second-story flat with that defining balustrade of two-by-fours running up the outside stairway.
Bill Vaughan, the great paragrapher, founded a club of people raised above grocery stores. Hubert Humphrey supposedly was a member (he was vice president of that, too). My father-in-law was a member. There was a grocery on a corner in every neighborhood throughout America.
We, though, true to Murray's model, became young urban professionals (Yuppies they used to call us)—junior law partners, university co-administrators, executive vice presidents, deputy municipal planners, special assistants to the superintendent, crusading journalists, assistant managers of this or that, and other glorified high-tech clerks.
"There is no such thing as an 'ordinary American,'" Murray concludes. "The people who run the country have enormous influence over the culture, politics and the economics of the country. And increasingly, they haven't a clue about how most of America lives. They have never experienced it. They don't watch the same movies, they don't watch the same television shows—they don't watch television at all, in many cases—and when that happens, you get some policies that are pretty far out of whack."
And none of them could keep a corner grocery operating for even a day.
My friend could run one in his sleep, but the store went out of business in the 1982 recession. He stuffed his business diploma into the glove box of the GTO, loaded two Bluetick Coonhounds and five sacks of dog food, and headed for the Rockies.
Politically incorrect and looking for work, he hired out with the dogs chasing bears (animal cruelty) off high-country ranches. He hauled coal down mountain roads (a polluter). He married (traditionally) and made payments (a middle-class privilege) on a ranch of his own (a scar on the landscape).
He raised a houseful of children, none of whom went to Haiti to fight world hunger but who included an engineer at the Colorado School of Mines, a cornerback at Cornell, and a combat officer in Afghanistan.
He despised journalists. It was a prejudice stoked in the basement of the White House as an Army draftee working the media switchboard for the Johnson administration.
And lest anyone wanted to push him off any of these life stances—or his property—he was dependably armed and a crack shot, a descendant of Kit Carson.
He was alone in our generation. We, being lazy and in need, sought to leverage those with energy and means. In midlife, though, when all our socioeconomic experiments began to collapse, we tried to change our tune. If socialism wasn't good, we argued lamely, then wealth at least was bad—or not as fair or as kind as government could make it.
We were idiots. My friend wasn't.
That and a second recession were the death of him.•
__________
Ladwig edits Indiana Policy Review, a quarterly journal studying local public policy. Send comments on this column to ibjedit@ibj.com.
Please enable JavaScript to view this content.