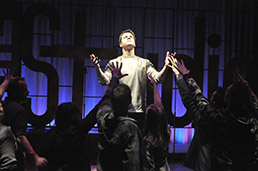 Actors Theatre of Indiana performs "Godspell" with Brandon Alstott as Jesus. (Photo Courtesy Actors Theatre of Indiana)
It is said (by me, if not by anyone else) that there are two kinds of people in this world of ours: those who prefer "Godspell" and those who prefer "Jesus Christ Superstar."
The two musicals share source material but differ drastically in their approaches. While the former is more summer camp in its energy and sound, the latter focuses on rock 'n' roll angst. And while "Superstar" offers a grim Jesus and is concerned with the final days of his life on Earth, "Godspell" features a more benevolent martyr energetically sharing his parables.
While a director's vision certainly can make one "Superstar" different from another, "Godspell" is by far the more flexible show. Actors Theatre of Indiana's current production (running through Feb. 26 at the Studio Theatre at the Center for the Performing Arts) is dramatically different from others I've seen or read about. And it's those details—combined with the core pleasures of the material—that make any production of "Godspell" worthwhile.
In an arts world where "appealing to a younger audience" seems to be the mantra, perhaps the gutsiest choice by ATI was to not cast the show entirely with actors around 20. Yes, this does lend a "Cougar Town" quality to the teasing song "Turn Back O Man," but it also gives this take an added sense of melancholy and universality. This Jesus isn't just preaching to kids. And his apostles aren't blank slates to write on but, rather, people who have experienced life already.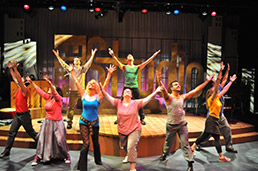 Actors Theatre of Indiana sets its "Godspell" in a bar where Jesus finds his apostles. (Photo Courtesy Actors Theatre of Indiana)
The set, too, is creatively different. I've seen "Godspell" set in parks, on fishing wharfs, and in churches, but I haven't seen one set in a bar. As the show opens, there's a hint of "The Iceman Cometh" as Jesus enters a world peopled with characters in need of redemption and community. The blowing of the traditional shofar, which usually leads into the opening number, is replaced by the feedback from a microphone deliberately placed too close to a speaker. Nice touch.
The club atmosphere makes the transitions from story to song smooth, and the music is handled smartly throughout by Brent Marty and his band. There are mercifully only a few moments when the show is played awkwardly cute (something I think "Superstar" fans fear of "Godspell") and the positive vibe of the show is palpable.
For me, the test of any "Godspell" comes in the "On the Willows" sequence where Jesus says goodbye to his disciples. Done well, these goodbyes each highlight a special connection between the savior and each of the saved. Not all of them pop here—blame that in part on a Jesus who lacks gravitas (think early Brendan Frasier). But the confusion captured by Claire (Claire Wilcher), Judy's (Judy Fitzgerald) palpable sense of loss for the one person who valued her, and Paul's (Paul D. Nicely) refusal to accept what's happening all ring particularly powerful and true.
Last year in these pages, I wrote of the pleasures of sitting in on Ball State University theater department classes led by Broadway star Sutton Foster ("Thoroughly Modern Millie," "Shrek"). With sharp insight, gentle guidance and a best-big-sister-in-the-world approach, she managed to help transform good performances into outstanding ones by bringing the work from within the singing actors, not imposing ideas on them.
This year, with Foster winning a Tony Award for the still-running "Anything Goes" revival on Broadway—and with her TV pilot picked up as a series—I didn't expect Muncie to be included in her travel plans. Skipping this year would be perfectly understandable.
But there she was, at opening night of Ball State Theatre's "The Drowsy Chaperone," humbly being pulled up for a curtain call by the company she co-directed.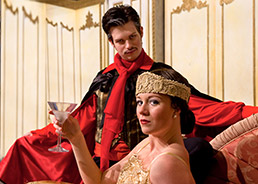 Andy Pickerill and Allison Sill are among those Ball State actors benefitting from working with Broadway star Sutton Foster on "The Drowsy Chaperone." (Photo Courtesy Ball State University)
She had every right to be proud—as did her directing cohort Bill Jenkins, chairman of the theater department, and the talented company. In a show that celebrates stock characters, you'd think one solid production would be as effective as another. But having raved about the version staged by Booth Tarkington Civic Theatre in the fall, I was happy to see the Ball State crew making new, funny discoveries in the musical comedy.
I may be reading into it, but these grace notes seem to have the Foster imprint—small moments where the performers take the audience from pleasure to bliss with a small gesture or pause. I was particularly enamored with the work of Alison Sill as the knowing chaperone, Katie Mazzini as a wonderfully absent-minded Mrs. Tottendale, and—in the role Foster played on Broadway—Betsy Farrar as the bride, Janet. There's a distinct pleasure you get when a comedic actor isn't just working the punch lines, but creating joy just by being onstage. Despite some audio mixing problems (the talented orchestra too often drowned out the accomplished actors), this was a "Chaperone" well worth the drive. It provided even more evidence that Ball State should be on the radar of any central Indiana theater lover—or any theatrical casting director looking for young talent.•
Please enable JavaScript to view this content.