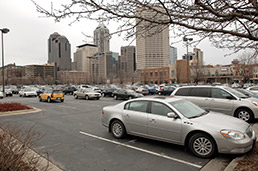 Motorists won't be able to use some of OneAmerica's surface parking lots once a project to add a Marsh store and apartments breaks ground. (IBJ Photo/ Perry Reichanadter)
The hotel and apartment buildings at CityWay have begun to emerge from a sea of parking lots.

More than a city block's worth of OneAmerica lots are slated for destruction to make way for a new Marsh and more apartments.

And if Mayor Greg Ballard and his team get their way, more surface parking lots soon will be doomed, including those at the former Market Square Arena site, the Indianapolis Public Schools bus lots on Massachusetts Avenue, the former GM stamping plant and the proposed home of Penn Centre along Pennsylvania Street.

The surface lots are a remnant of the city's sleepier days, when conventional wisdom held that old buildings should be torn down to pave the way for eventual redevelopment. The lots wound up playing an important role in downtown's transformation: Without convenient parking, new office buildings and Circle Centre mall would have struggled even more to compete with their suburban counterparts.

But the city's expansive surface parking lots now are seen as an impediment to connecting downtown with IUPUI; the cultural districts including Mass Ave and Fountain Square; and the corporate campuses of Eli Lilly and Co., WellPoint Inc. and Rolls-Royce Corp. Robust demand for walkable downtown living could change that.

"Twenty years ago, parking was an obstacle to building the downtown we wanted, so surface parking was a necessary evil," said Deputy Mayor Michael Huber. "Now the lots present an opportunity, a blank canvas. What's changed is this demand for downtown residential and mixed-use living, which helps justify public expense for stackable parking."

A new driver

The common denominator for most of the parking-lot replacements: high-end apartments.

The success of Cosmopolitan on the Canal was a turning point that helped persuade Huber and others in the Mayor's Office to build a downtown residential strategy driven by multifamily.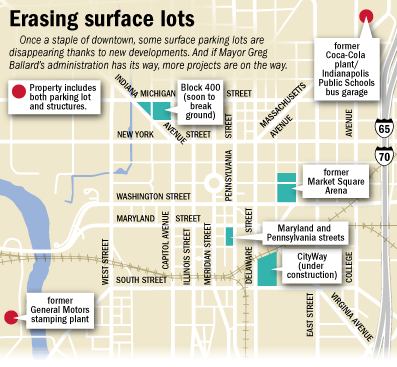 The project by the local developer Flaherty & Collins Properties is as fully occupied as is possible for an apartment community. Yet it was the demographics of its residents that got the city's attention: About 48 percent of those living at the Cosmopolitan are new to Marion County, and their average household income exceeds $100,000.

More people means a larger tax base and more incentive for companies to set up shop downtown.

"You've got to be able to adjust as the market changes," said Brad Hurt, a veteran developer and president of the Crawfordsville-based consultancy Urban Initiatives. "The new driver for downtown is residential."

Skeptics, take note: Downtown in the mid-1980s had fewer than 1,000 hotel rooms; now it has 7,000. And there was plenty of uncertainty about the viability of street-level restaurants before Circle Centre. Back then, downtown eateries recorded about $15 million in sales per year, half from St. Elmo Steak House, Hurt said. Downtown restaurants in 2011 recorded more than $100 million in sales.

The spark

A high demand for apartments and a more reasonable financing environment have the potential to finally spark redevelopment of downtown's surface lots.

The tipping point will arrive as more and more people live within the urban core, said Aaron Renn, an urban affairs expert who writes the Urbanophile blog.

Renn figures fewer than 9,000 people live in the downtown core if you subtract out the 3,000-person jail population, though others take a broader view of downtown that has about 22,000 people.

"More people start to make a big impact in the feel of the city," Renn said. "At some point, you reach a critical mass of people where you can start supporting more commercial development."

A 2011 study called "What's Next Indianapolis?"—commissioned by the city and performed by Urban Initiatives and Browning Day Mullins Dierdorf Architects—proposes a 20-year development plan adding 9,300 housing units, 18,600 garage parking spaces, along with more than 2 million square feet of retail and office space.

City officials have been meeting with developers to discuss the former home of Market Square Arena and expect to seek bids within a year or so. They're scheduled to meet with a local developer this month about reviving the Penn Centre proposal for Pennsylvania Street between Maryland and Georgia streets, in part by adding a multifamily component.

Redevelopment of the Indianapolis Public Schools bus maintenance and parking facility on Massachusetts Avenue and the former GM stamping plant are longer-term projects.

The common denominator should be a focus on green space and connectivity—and erasing parking lots, Hurt said.

"If you're looking at the city in terms of place-making, surface parking lots are the last thing you want," he said. "They destroy connectivity and walkability. They really are an impediment to creating a 24-hour activity node."

Dubious incentives

Many of downtown's surface parking lots were created starting in the late 1960s when building owners demolished their structures with help from federal programs designed to rid cities of blight.

"The thought was [the surface parking lots] would be quickly redeveloped," said Mike Wells, president of locally based REI Investments and an adviser to former Mayor Steve Goldsmith.

The thought, of course, was largely wrong. The destruction of old buildings left gaping holes in cityscapes across the country.

And once the buildings were gone, property owners found incentive in the tax policy of most states, including Indiana, to keep their parking lots.

Since property taxes are based on the combined value of land and building, and land is often assessed at well below market value, the best way to land-bank property is to tear down a building.

A strong demand for apartments as IUPUI and downtown grow together, along with some city intervention, is beginning to change the calculus.

"Demand for urban living has finally gotten to the point where a lot of these surface lots can finally be developed," said Wells, whose real estate development business focuses on hospitality and apartment projects but also owns parking garages at 300 N. Meridian St. and 301 N. Illinois St. "I believe the new Marsh is one of the more significant things downtown in the last 10 years; it really will accelerate people's desire to live downtown.

"Any great urban area is not filled with parking lots."

'Momentum building'

Among the parking lots with the most promise for development are those west of Pennsylvania Street between Maryland and Georgia streets, where Penn Centre was supposed to have risen by now.

Developer Allen Commercial couldn't secure financing for the hotel, retail and condo project as the recession took hold, but the firm has continued making payments on the properties and is regrouping on what to build.

Company officials are scheduled to meet this month with city leaders including Deputy Mayor Michael Huber about an incentive package that could help jump-start the project.

They'll make the case that any public assistance would pay for itself with increased revenue to the city from food and beverage taxes, room taxes, income taxes on employees, and property taxes from a much higher assessed value.

"There's some momentum building to reignite the project," CEO Greg Allen said. "We're going to need some support from the city, and we may have to change the mix to make a project happen."

Specifically, Allen is looking at building apartments in a first phase at Georgia and Pennsylvania streets just east of the Harness Factory Lofts, possibly in partnership with another developer. Banks continue to lend for multifamily projects, but have little appetite for condo or retail deals.

The Aloft and Le Meridian hotels on the original Penn Centre plan could be built in a second phase. Allen has retained franchise rights to the hotels, which would add up to 400 rooms downtown and help alleviate one of the biggest drawbacks to Indy as a repeat Super Bowl host city.

"We've just hunkered down waiting for the economic stars to align, then we'll hit the gas," Allen said.

Seal of approval

The strategy of eliminating surface parking is "A-plus" according to Renn: "If it's one thing we've got, it is plenty of parking lots and empty space."

He sees the high-density, midrise Marsh and CityWay projects as appropriately scaled for the city, albeit with uninspiring design. The proposed parking garage just north of the OneAmerica Tower is of particular concern.

"You can't just put parking garages on parking lots," Renn said. "It's still a parking lot. We need to look at these details because details matter."

As long as the city's trying to eliminate parking lots, he said, city leaders should also consider moving downtown's three jail buildings, tearing down the City-County Building, renovating the Old City Hall into a municipal executive office building, and moving other city functions to a new building on the MSA site.•