Federal stimulus money for Indiana highway projects so far has put to work 1,222 people with a payroll of $1.27 million,
according to state records of 42 projects under way in which contractors have reported job data.
The work, ranging
from paving to replacing bridge decks, had a total contract value of $39.2 million. That's a sliver of the $440 million
in federal stimulus money the Indiana Department of Transportation plans to put toward road work statewide over the next three
years.
Thus, it's too early to gauge the broader effect of the stimulus on construction-related employment.
Some are dubious of whether the money spent here and across the nation will have lasting employment benefits relative to the
staggering cost of the Obama administration's $787 billion American Recovery and Reinvestment Act.
The
early employment numbers suggest at least a short-term benefit for Indiana's struggling construction ranks as projects
unfold. It can't come fast enough; in a two-year period ended in May, construction employment in the state fell 16 percent,
a loss of 23,800 jobs, to 128,600, according to preliminary data from the U.S. Bureau of Labor Statistics.
That
was after nearly a decade of relatively stable employment in the sector buoyed by big projects such as Lucas Oil Stadium,
the new terminal at Indianapolis International Airport, and the housing boom that's now gone bust.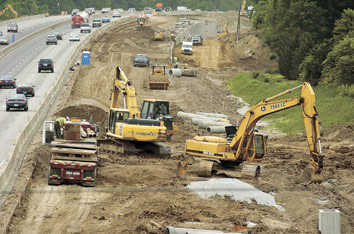 Construction work on Interstate
465 looking north from 21st Street.
"There's not as much commercial and industrial work out there as there
has been in the past 10 to 15 years. [Stimulus work] is welcome because it's still a tight, tight work environment,"
said Chuck Bracken, sales manager at E&B Paving Inc. in Anderson, which has 55 people working on stimulus-funded projects
for INDOT.
Job preserver
Fort Wayne-based Brooks Construction Co. has 62 people
working on stimulus-fueled road projects for the state.
"The lack of that money probably would mean those
people wouldn't have been working, or not now employees. It's still a tough market out there," said the
firm's co-owner, Andy Brooks.
The contractor with the most jobs linked to stimulus-funded INDOT projects
was North Vernon-based Dave O'Mara Contractor Inc., with 288 workers committed to the firm's paving and culvert
work. As of the latest INDOT report, O'Mara's payroll attributed to stimulus work was $343,623.
The stimulus projects should bring back to work a number of construction workers who've been idled this year, said Charles
Kahl, president of the Indiana Construction Association, which has 315 members employing more than 45,000 people.
Also benefiting, though hard to quantify, will be firms that support contractors such as concrete and asphalt suppliers,
Kahl said.
"We do feel it will be a job creator for the industry," he said.
Nailing down just what constitutes new jobs in the construction industry is inherently tricky. Many
of these jobs are project-specific. A worker gets hired and, when the project is completed, hopes to pick up another gig elsewhere.
The work is often seasonal.
Is the stimulus creating "new" jobs?
"That's
kind of almost impossible to tell," said Bruce Childs, a deputy commissioner at INDOT.
"If those
stimulus funds weren't there, would a guy still have a crew? The maintenance of positions can be as important as creating
positions," Childs said.
As of the end of June, INDOT had advertised or awarded $307 million out of a total
$440 million set aside for state-managed stimulus projects. Another $218 million is being channeled to local government agencies
for their transportation projects.
Under federal guidelines, work on stimulus projects must be wrapped up by
early 2012.
Long-term pain?
Just what effect the hundreds of millions of dollars
flowing into Indiana for transportation projects will have longer term "is a really complicated question," said
Babur De Los Santos, an assistant professor of business economics at the Indiana University Kelley School of Business.
"I think it will have some long-term benefit. In the beginning, it will have a big bump" for labor,
he said. "But what happens after the money runs out?"
That question already is creating unease among
economists such as Shirley Svorny, a professor at California State University in Northridge, Calif.
She said
stimulus projects often do stave off the economic effects on the construction industry during an economic downturn. And improvements
to infrastructure can provide a boost to the local economy in the form of moving people and goods more efficiently.
But Svorny noted that economists are divided about the value compared with the overall cost of the stimulus.
"It's the increased debt that is going to be a huge burden on the economy
and will require higher taxes. You're taking money that would have been used by the private sector" to spur growth,
said Svorny, who was among more than 200 economists who signed a letter to the administration questioning massive government
spending to energize the economy.
The economists contend that government spending by presidents Hoover and Roosevelt
failed to lift the United States out of the Great Depression and did not solve Japan's "lost decade" in
the 1990s. They argue that it's "a triumph of hope over experience to believe that more government spending will
help the U.S. today."
Jack Tatom, director of research at Indiana State University's Network Financial
Institute, said little is spent on infrastructure relative to the size of the overall economy, so he questions whether it
will have a huge impact in the long run.
But in the here and now, contractor Brooks said he's grateful
to have lassoed early-on INDOT stimulus work in northeastern Indiana, where some are comparing the current economic downturn
to the catastrophe following the closure of International Harvester's massive truck-manufacturing complex in Fort Wayne
in 1982.
The stimulus money "is at least sustaining our jobs," said E&B's Bracken.
Please enable JavaScript to view this content.