FINALISTS: Advancements in Health Care
Daniel E. Kraft, M.D.
Director, Riley Hospital for Children Sports Medicine at Indiana University Health; Co-director, Indiana Sports Concussion Network
Joseph O'Neil, M.D., MPH, FAAP
Neurodevelopmental Pediatrician, Riley Hospital for Children
Zachery Lystedt, a 13-year-old Maple Valley, Wash., football player, died from two concussions in a single football game in 2006. That prompted the country's first legislation to ensure student-athletes' injured brains get enough rest.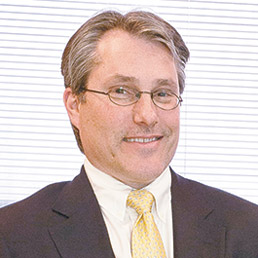 Daniel Kraft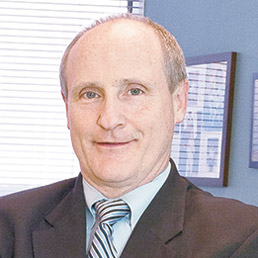 Joseph O'Neil (IBJ Photos/ Perry Reichanadter)
There have been no catastrophic brain injuries there since Washington established its concussion law in 2009, said Joseph O'Neil, M.D., an associate professor of clinical pediatrics at the Indiana University School of Medicine. That inspired O'Neil to team with Daniel E. Kraft, M.D., director of Riley Hospital for Children Sports Medicine, and with State Sen. Travis Holdman and Gov. Mitch Daniels to work toward a law that would protect student-athletes in Indiana.
Senate Bill 93 takes effect July 1, 2012, making Indiana one of 31 states with a concussion law. Mandates increase awareness, remove injured players from play and improve concussion management.
Injury, both intentional and unintentional, is the leading cause of death for Americans, aged one through 44. O'Neil remembers what led him to work to fight the problem.
"When I started my career in Chicago, I saw a high school basketball player for a preseason physical. I walked in and said hello, asked how the season's going to go, what are you going to do and said goodbye. Four hours later, I was called to the emergency room because he had been shot multiple times in a drive-by shooting. And he died in our emergency room."
Because of this incident and other preventable tragedies, O'Neil pursued a research career in preventable injuries. He has helped the Indiana General Assembly strengthen child passenger safety and teen driving laws.
A neurodevelopmental disabilities pediatrician with Riley since 2001, O'Neil, 55, said, "I take care of kids with disabilities. That's what I love to do. If I can consult with Dan and prevent one child from being injured, then I've done something really worthwhile."
How serious is a concussion?
After a concussion, patients must rest the brain or risk permanent impairment in the form of depression, early onset dementia, poor judgment or even death.
"The brain gets better in a sequential process that we just now are beginning to understand," O'Neil said. Former Chicago Bears safety Dave Duerson killed himself after multiple concussions. Depressed, he wrote a suicide note explaining he put the gun to his chest to protect his brain so it could be studied.
"You can't always count on an athlete to tell you what's going on," O'Neil said. "They really want to play and sometimes are pressured by adults to play." Kraft, 48, a pediatric/adolescent sports medicine specialist, added, "To know if you have had a concussion, you need two things: trauma to the head and a symptom directly related to that trauma." Kraft joined Riley in 2010 after practicing at Methodist Sports Medicine Clinic since 1994.
If you have a concussion, Kraft recommends rest, no video games and limited texting and computer and television use. For more information, visit www.indianasportsconcussionnetwork.com.
Please enable JavaScript to view this content.