WINNER: Physician
Rajiv Sood, M.D., FACS
Medical Director, Richard M. Fairbanks Burn Center, Wishard Health Services; Professor of Plastic Surgery, Indiana University School of Medicine
It was practically a given that Rajiv Sood, M.D., would become a doctor. His mother, a pediatrician, had her office in the family's house, and from age six the concept of helping and healing others was second nature to him. But it was his focused intensity, drive and high expectations that set Sood on course to become one of the world's leading experts in burn treatments.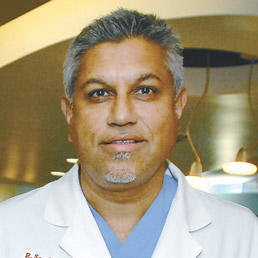 (IBJ Photo/ Perry Reichanadter)
Sood and his team treat the most horrific cases from Indiana and neighboring states. At Wishard, no patient is turned away because of an inability to pay. Some patients, by all rights, shouldn't have survived.
Mark Doucey suffered third-degree burns over 75 percent of his body in a mid-air plane collision. He spent three-and-a-half months at the Richard M. Fairbanks Burn Center and underwent 27 surgeries in two-and-a-half years.
"The expertise of Dr. Rajiv Sood and his entire team were amazing, and I owe much of my recovery to their great care," Doucey said. "The burn patients who are saved are given opportunities to lead productive lives through tremendous advancements in surgical procedures and physical and emotional therapy."
The number of patients treated at the burn centers has risen steadily since 1993. Sood, 52, treats more than 3,350 patients each year—330 inpatient; 3,000 outpatient. Caring for burn patients is intense and demanding, and patients are followed for a year or two after release from the hospital. "It's not one operation and then you're done," Sood said. "No burn patient is ever the same. You have to learn how to take care of each patient all the way through."
Burns weren't always Sood's focus. He attended Albany Medical College of Union University and followed it with a residency in general surgery at Temple University Hospital in Philadelphia. He served a plastic surgery residency at the Cleveland Clinic Foundation and was awarded a hand and micro-surgery fellowship. He came to Wishard in 1992 and became medical director of the burn center soon afterward.
That's when he became hooked. He equates what he does with being an "old-time family doctor." "Burns allow me to incorporate all parts of my training," he said. "Most of all it allows me to be a physician and to work with a multi-disciplinary team. That's what I've enjoyed most about it—building the center and this team."
It was thanks to Sood's efforts that Wishard built a new burn center nine years ago. Now Riley Hospital for Children is opening one, and the Wishard center will be enhanced when it opens in the new Eskenazi Hospital, which will replace Wishard.
"Dr. Sood worked with the Richard M. Fairbanks Foundation and other philanthropic entities to generate support and funding to build a new, state-of-the art, burn center that is envied and emulated around the country," said Adam C. Cohen, M.D., assistant clinical professor of surgery, Indiana University School of Medicine.
Sood helped build, design and raise funds for a pediatric burn center in El Salvador which opened last year, the only such center in Central America, and is working with Panama to help build a burn center in that country. He sits on the certifying committee of the American Burn Association, which evaluates other burn units around the country.
Sood builds programs as well. He started a burn fellowship program for established plastic surgeons/burn surgeons. And he was instrumental in the founding of three burn programs to help burn patients cope with emotional and practical issues: an informal Burn Survivor Support Group; Survivors Offering Assistance in Recovery (S.O.A.R.), which helps prepare patients for the transition from the hospital to the outside world; and Image Enhancement, a spa that teaches patients how to camouflage scars.
"The S.O.A.R. program, coupled with the Burn Survivor Support Group, provides vital benefits to the burn survivor community, giving us a place to feel safe talking about our challenges, and hope that even the most traumatic events can be overcome," said former patient Jeremy Warriner. "These programs wouldn't be in place without Dr. Sood's support, and I truly believe that without his skill as a physician, I would not be here to be part of them."
Sood is well known for his research on skin and skin substitutes and for establishing the standards for how to use commercially available and grown skin. He is the lead investigator for spray-on-skin, in which a postage-stamp size piece of skin from the patient is liquefied and sprayed on the wound in the operating room. "It will revolutionize both acute and chronic wound management once it comes into being," Sood said.
His extensive study of the cultured epithelial autograft technique, a first step toward an off-the-shelf skin substitute to treat large burns, is acknowledged to be the most extensive study of the topic. Sood is also working, in conjunction with other researchers at Indiana University, on another version of off-the-shelf skin substitute that involves infusing fat cells into skin products. In 2010 his paper on the use of skin substitutes in burns and non-healing wounds received the top award from the American Society of Plastic Surgeons.
"I couldn't do this all by myself," Sood said. "It really is a team effort, but we are also blessed to have great support for both IU Health and Wishard."
Please enable JavaScript to view this content.