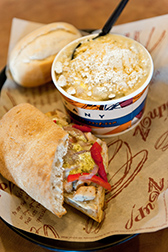 At Zoup!, you may spend as much time choosing as you do eating. (IBJ Photo/ Perry Reichanadter)
When lunching at Zoup! (1430 W. Carmel Drive, 810-9800), count on spending more time than you might expect staring at the menu before placing your order at the counter. Patrons have a dozen soups to choose from and a smattering of sandwiches and salads. And there's a friendly server standing at the soup vats, ladle in hand, offering samples of any or all of the concoctions before customers place an order.

And since 10 of the soups change daily, even seasoned customers may slow down in order to weigh the potential pleasures of, say, Chicken with Roasted Garlic versus Frontier 7 Bean or Pumpkin Pie Bisque.

Making its first foray into the Indianapolis market, the Michigan-based order-and-sit eatery does hold a few constants: There's always Chicken Potpie soup ($4.25) and Lobster Bisque ($4.75) on the menu. Both seem worthy of a regular spot, though they're a little pricy for an eight-ounce portion.

The Chicken Potpie was thick with chunky chicken and topped with crumbled pie crust with a bit too much salt in the mix. The buttery Lobster Bisque is billed as having a hint of cayenne pepper and sherry, but the hint didn't seem to make it to the taste buds—the bisque was tasty enough but lacked flair.

A watery Turkey Chili ($3.25) was even less successful, crying out for some

kick. You can double up on soups for $8, or pair with a half sandwich or salad. We would have tried a fourth variety, but our order was mixed up and we ended up with two of the same. I'm sure it would have been replaced if we had realized the problem sooner.

Sandwiches had nice crunch when housed on ciabatta bread but, again, the price was a little high. Turkey Club ($4.50/$6.75), featured flavorful hickory smoked bacon, tomato and Swiss (and a tad too much mayo). Chicken Toscana ($4.50/$6.75) included roasted red peppers, marinated red onions, provolone and a flavorful basil mayo. Salad offerings ($4.50/$6.75) include Asian, Greek and American Farm (with mozzarella and grape tomatoes).

But it's the variety of soups that's the big selling point. And it seems a downtown location would fill a niche among workers who like some variety in their familiar and comfortable lunch options.•
__________

Last in a month-long series of looks at new north-side restaurants.