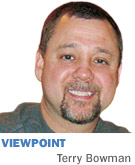 Through the annals of the last century, Michigan and Indiana have engaged in some exciting Big Ten contests, the winners usually crowing their dominance on and off the field.
Recently, however, the rivalry has moved off the field into the arena of economic stability.
Embracing reality, Gov. Daniels and the Indiana Legislature seized the brave choice to do what was right for residents and union workers and passed right-to-work legislation. Hoosiers apparently like to see the ball move down the field and win with a touchdown.
Michigan, on the other hand, continues to scramble on defense while losing the line of scrimmage to the bolder, more effective plays of Indiana.
Union officials have complained that right-to-work is a full-out frontal assault against the rights of union workers. They continue to use the same old arguments that have brought fear not only to union workers but to state residents, as well. The question each union worker and resident needs to ask is: Do union officials really have the best interests of the worker and the residents in mind?
As an active United Auto Workers member in Michigan, I have closely looked at the truth of right-to-work laws and have found the accuracy of the claims by union officials leaving much to be desired. Half-truths add to the poorly executed economic studies used to make their case. Most of these studies are paid for and influenced by union dollars. Union workers need to do their own due diligence and discover for themselves if right-to-work benefits them or not.
Clearly, it does.
One of the biggest arguments is the old "right to work for less" that union officials pass down from generation to generation. Is it true?
The average wage in a right-to-work state is less than in forced unionism states. But is that the whole story? When also considering cost of living, right-to-work states have on average $2,000 per year more in disposable income than in forced unionism states. As an example, a teacher in Alabama offered the same position in New York City but making $4,000 more per year would be worse off due to cost of living.
Wages are only half the story, yet union officials focus only on that.
Right-to-work laws pass back to the worker some of the absolute power over union dues that union bosses enjoy. In forced unionism states like Michigan, union officials make no apology for spending millions of our dues on political action that more than 40 percent of their workers disagree with. In a recent Harris poll, 60 percent of union households nationwide say unions are too involved in politics.
Indiana union workers no longer have to financially support a morbid political agenda that union officials embrace with their Democratic Party counterparts. Good for you, union workers of Indiana. If you exercise your rights, your money will no longer support actions like the Occupy movement, which most Americans rightly find nauseating, yet union officials support.
I'm jealous.
For union workers in the public sector, your future looks much brighter now than it did before right-to-work passed. Over the last decade, the top five states for job growth have all been right-to-work, and the bottom five are all forced unionism states. Public-sector union workers rely heavily on increased investment in the state and the corresponding tax dollars that come with it.
Already, the business migration has begun from Michigan, and you will see similar activity from Illinois, Ohio and Kentucky.
Indiana may not have won the Big Ten Football Championship this year, but in matters even more important, you are walking away smelling like roses.•
__________
Bowman is a 15-year UAW member living in southeastern Michigan and founder of Ypsilanti, Mich.–based Union Conservatives Inc. Send comments to ibjedit@ibj.com.
Please enable JavaScript to view this content.