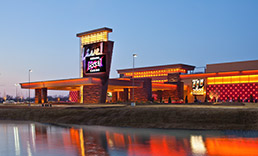 (IBJ File Photo)
Indiana Live is receiving overtures from potential buyers, including the owner of local competitor Hoosier Park & Casino.
Indiana Live's parent company said in a recent bankruptcy court filing that it had received one written and two verbal "indications of interest." The written offer came from Indianapolis-based Centaur Holdings LLC, which owns Hoosier Park in Anderson and last year expressed interest in buying the Shelbyville racetrack-casino.
Back then, Indiana Live still was trying to avoid bankruptcy court. Indiana Live's parent company, Indianapolis Downs LLC, ultimately sought chapter 11 protection in Delaware in April, and pressure from creditors is mounting.
At one point, the leading creditor accused the company of dragging out the process for the benefit of Ross Mangano, the South Bend businessman who controls Indiana Live.
Centaur General Counsel John Keeler confirmed his company submitted the written offer. Keeler said he doesn't know whether Indiana Live will follow through on the current offers, or pursue a different reorganization plan.
"It's a very long process, and it's hard to tell what turn it's going to take," Keeler said.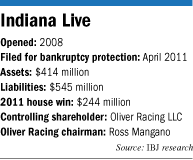 Mangano declined to comment.
Indiana Live's other potential buyers haven't publicly pronounced their interest.
One possibility is Penn National Gaming, which owns the Hollywood Casinos in Lawrenceburg and in the towns of Joliet and Aurora in Illinois. Penn is also opening a Hollywood Casino in Toledo, Ohio.
Attorneys working on Indiana Live's bankruptcy let slip Penn National's name in one of their billing statements late last year, said Ed Feigenbaum, publisher of Indiana Gaming Insight.
Penn National did not respond to requests for comment.
Churchill Downs seemed interested a year ago, when it amended a territory agreement with Centaur to allow either firm to pursue Indiana Live. But now the Louisville company might have a better option in its own back yard.
Since then, Kentucky Gov. Steve Beshear has made a strong push to bring casino gambling to that state's racetracks. The latest revision to Kentucky's proposed constitutional amendment guarantees that if a license is granted in the Louisville area, it would go to Churchill Downs, Feigenbaum noted.
Perhaps half a dozen companies would be interested in Indiana Live, said gambling-industry analyst Dennis Forst, managing director at Keybanc Capital Markets in Los Angeles, though he declined to speculate on which would be the most likely bidders.
"It's a fairly significant business," Forst said. "It would make sense for somebody."
The house win at Indiana Live was $244 million last year, a 3-percent increase over 2010, according to Indiana Gaming Commission reports.
In recent transactions, casinos have sold for about eight times their average monthly cash flow, which would suggest Indiana Live could go for about $150 million, Forst said.
That would represent just a sliver of the roughly $545 million in debt Indiana Live was carrying when it slid into bankruptcy. Most of that stems from financing the $250 million licensing fee the state of Indiana required in 2007, when the Legislature allowed central Indiana's two racetracks to add slot machines and electronic casino games.
Indiana Live spent another $250 million building out the facility, which opened in mid-2008 and has nearly 2,000 machines.
A similar debt load pushed Centaur into bankruptcy in 2010. It shed gambling properties in Colorado and Pennsylvania before emerging from Chapter 11 late last year with financing from the Toronto-based private equity firm Clairvest.
Keeler said Centaur's rationale for pursuing Indiana Live is the same as it was a year ago—greater profits by spreading marketing costs across properties and combining back-office operations. Centaur owns three off-track-betting parlors in addition to Hoosier Park.
Bankruptcy proceedings appear to be pushing Indiana Live toward a sale.
Stanley Tarr, an attorney representing the committee of second lien holders, argued in November for a quick sale of Indiana Live's assets as a way to avoid likely litigation over the company's yet-to-be-filed organization plan.
At that time, Indiana Live was seeking its second extension on a deadline to file an exit plan. Tarr asked the judge to limit the extension to 60 days because the company hadn't made a meaningful attempt to work with creditors thus far.
The lead creditor, Fortress Credit Opportunities Advisors LLC, made a similar complaint in August, when Indiana Live sought its first extension.
"It is abundantly clear that the debtors are slow-playing the Chapter 11 case for the benefit of Ross Mangano, the family trusts that he serves, and other related insider entities," Fortress attorneys said in their objection.
Indiana Live's latest request for an extension, however, came with support from its major creditors, according to the Jan. 30 filing.
Indiana Live says it has come up with a reorganization plan that is amenable to Fortress, but not to the second lien committee, which continues to press for a quick sale.
"Each party is a credible buyer, although each is at a preliminary stage and there are issues with each expression of interest," wrote attorney Dennis Meloro at Greenburg Traurig in Delaware.
Indiana Live was prepared to move ahead on parallel tracks with the reorganization plan that Fortress agreed to and a sale process, but the creditors requested additional time to work out a consensus, Meloro wrote.•
Please enable JavaScript to view this content.