Environmental regulators' zeal to reduce diesel engine pollution is backfiring.
Trucking fleets, already buckling under higher costs for insurance and fuel, are finding ways around new rules that nearly eliminate nitrogen oxides and particulate matter but also sent prices of new trucks soaring.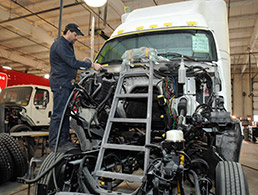 Stoops Freightliner employee Jeff Swartz prepares to paint an old truck that's being upgraded with a rebuilt engine. (IBJ Photo/ Perry Reichanadter)
Some fleets have taken to driving past showrooms in favor of overhauling old trucks at half the cost of a bureaucrat's dream ride. Stoops Freightliner, a truck dealer on Indianapolis' south side, is just one company doing a booming business in overhauls.
Still other fleets are buying partially completed new trucks, called gliders, and installing just enough refurbished engines and other older components to create a perfectly legal new truck operating under older standards.
Trucking firms say they're just trying to survive, but some clean-air advocates aren't happy.
"It's true that companies have to make a living," said Jodi Perras, executive director of Indianapolis-based Improving Kids' Environment. But, "What's $10,000 [more for a truck] when it comes to the life of a child and that child's ability to breathe?"
Overhauls were not what the EPA had in mind in 2000 when it began formulating 2007 and 2010 diesel standards. Continuing a trend started in 1984, the main pollutants were to be slashed ninefold in six years; by 2010, nitrogen oxide would fall to just 0.2 grams, and particulates to 0.01 grams, per brake horsepower hour.
No one would purposefully breathe exhaust from the new engines. But it's virtually pure in comparison to the smoky grit belched by trucks before the cleanup began.
However, the new rules also caused truck prices to escalate just as the Great Recession settled upon the country.
A new semi tractor that retailed for $105,000 in 2007 shot up $8,000 to $10,000 that year, and then again in 2010, according to the American Trucking Associations, the trade group for heavy diesel fleets.
"You can see why there's much interest in looking at rebuilds and glider kits," said association spokesman Glen Kedzie.
Humming refurb business
Stoops Freightliner's bread and butter has long been selling new trucks and servicing older ones.
Now, though, its sprawling service bays seem more like a sideshow alongside the veritable rebuild factory.
The 2-1/2-week process transforms tattered units with darned near 1 million miles on the odometer for $45,000 to $60,000, about half the price of a new tractor.
In one building recently sat row after row of 10-year-old trucks—their engines removed—having returned from the body shop, cabs glistening with fresh white paint. Frame rails are painted, and refurbished wheels reinforce the illusion that the trucks just rolled off the original assembly line.
In another building a technician installs a new dashboard, seats and door panels. Sometimes the changes incorporate new technology like satellite radios. But often the effort is just to keep defection-prone drivers happy with more pleasant surroundings. A remanufactured engine—usually with a warranty—and a newly painted hood are bolted on.
"The average person would not know it's not a new truck," said CEO Jeff Stoops.
Stoops isn't the only company with a booming rebuild business.
Dan Ryan, general manager of nearby JX Peterbilt Indianapolis, said some fleets not only balk at the higher costs of new trucks, but they also are wary of the complexity of the new engines and question their reliability.
"It is not uncommon to see a customer spend $20,000 to overhaul his engine," Ryan said.
Stoops hit the jackpot last year when it landed a big refurb job from a national trucking firm. He's brought on another dozen technicians to handle the work.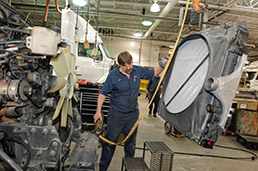 One of the first parts to come off a truck in order to remove the engine is the radiator. Chuck Kline prepares to remove the engine to make way for a rebuilt unit. (IBJ Photo/ Perry Reichanadter)
Diesel engine manufacturers including Cummins Inc. also have benefited from overhauling. The Columbus company's unit that reconditions heavy-duty engines, with annual sales of $750 million, saw strong growth in 2011, said Jeff Jones, vice president of marketing and sales.
The average age in service of Class 8 trucks has grown to nearly seven years from six years during better times, Jones said.
Early in the recession, with an excess of truck capacity, some fleets parked their older trucks. But about a year and a half ago, as freight volumes began to grow, some of the fleets started overhauling units taken out of service, which helped drive Cummins' reconditioned engines and parts line.
Business decision
Stoops said some firms are still buying new trucks, but choose to refurbish others.
Fuel economy is a factor in the decisions. Cummins' Jones said efficiency gains of 4 percent to 6 percent in EPA 2010 engines aren't uncommon.
Rebuilds don't always make sense because keeping a truck longer can drive down resale values and also result in losing tax write-downs on depreciation.
Firms most likely to go the rebuild route often are less-than-truckload companies—those that haul goods of many customers on a truck and within a local area, said Eric Starks, principal of Nashville, Ind.-based Freight Transportation Research Associates. Because of the shorter distances, the trucks can remain in use for decades versus long-haul lines, which can least afford breakdowns.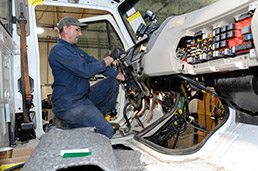 Blaise Walden reassembles the steering column. The interiors are updated to help trucking firms appeal to notoriously finicky drivers. (IBJ Photo/ Perry Reichanadter)
Stoops, who would be more than happy to sell fleets brand-new trucks, said overhauls in effect reduce emissions because older trucks can emit more grit as their engines wear out. The rebuilt engines also should get better fuel economy.
The EPA projected dramatic improvements in air quality with its newer standards, saying new trucks should be at least 90-percent cleaner. The agency predicts a 2.6-million-ton reduction in nitrogen oxides emissions by 2030. The latest standard will result in 8,300 fewer premature deaths and 17,600 fewer annual cases of acute bronchitis in children, the EPA says.
Perras, the Improving Kids' Environment executive director, said studies have shown that people living near highways have higher rates of asthma and other respiratory ailments.
While fleets may save money on the front end, society will shoulder pollution-induced illnesses that push up health care and insurance costs, she warns.
Besides, Perras said, it's not like trucks are being singled out by the EPA; automobile manufacturers and factories also have had to spend to control pollution.•
 
Please enable JavaScript to view this content.