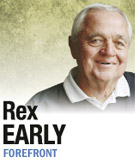 The Republican Party is alive and well. I haven't been so excited about an election since Brent Waltz and Greg Walker won hotly contested primary elections against two Republican state senators who had been in the Legislature for a total of almost 80 years.
In 2010, we Republicans elected four new members to Congress. If the election were today, we would re-elect those four as well as three more new congressmen. I am sure that, before the fall election, all seven of them will endorse term limits. If you don't believe me, just ask them.
The No. 1 question in 2012 will be whom we nominate for president at the Republican National Convention in August at Tampa, Fla.
I had a dream last week about the convention. In my dream, all four of our existing candidates came to the convention with almost an equal number of delegates and none of the four had 51 percent.
Soon after the convention was convened, the national committee and the "deal makers" met behind closed doors to see if they could unscramble the egg. They soon surrendered.
The rumors were flying. It was rumored Rubio wanted to run. A contingent from New Jersey said Christie had changed his mind and would run, but that couldn't be confirmed as Christie had left to get something to eat. One rumor was that McCain wanted to run, but couldn't find anyone who would nominate him. The floor looked like a Chinese fire drill.
Finally, the convention was called to order and the state chairman from Indiana, Eric Holcombe, asked from the floor to be recognized.
The crowed was buzzing. The millions watching TV were holding their breath; 10,000 spectators were sitting on the edges of their seats. The 2,287 delegates and 2,287 alternates were straining to hear what Holcombe had to say.
When Holcombe nominated Mitch Daniels for president, the convention went wild. The liberal press wanted to puke; they knew their man Obama was in trouble. Chris Matthews and Rachel Maddow were seen leaving while holding hands and crying. Matthews was heard saying he had been hardballed.
The Wabash College contingent dropped their man Romney like a hot potato, saying they really never liked him.
The vote for Daniels was unanimous. Hard-core politicians were cheering and weeping with joy.
I saw senior citizens throw away their crutches and dance in the aisles. It looked like Benny Hinn and Ernest Angley had both been there.
It made the New York Giants celebration look like a Little League playoff victory.
All over the country, Republicans, independents and thinking Democrats were looking for "I like Mitch" T-shirts.
The next morning, Obama was on national TV reading from his teleprompter his decision not to seek a second term and he endorsed Hillary Clinton for president and Al Sharpton for vice president. That woke me up.
I hope this all happens, but I must admit my record on picking presidents is a little suspect.
I really liked Goldwater: He lost. Nixon was indicted and resigned. Ford beat Reagan.
In 1980, I was gung-ho for Lugar for vice president: Reagan took H.W. Bush.
Two years later, I was Republican state chairman. Bush lost to Clinton. When Lugar ran for president, I went to Iowa to help. He lost.
I maxed out ($2,300) for Fred Thompson and a couple of weeks later, he quit. If he sent back my $2,300, it must have blown off the porch. He is now on TV selling reverse mortgages. I ain't buying one from him until I get my $2,300 back.
In 2012, I've been for Perry (I sent him a contribution): He quit. I'm for Newt, but he's looking a little shaky.
I really loved Reagan. I sure would like to have one more winner before I start dribbling my cornflakes.
Come on, Mitch. If this race goes to a brokered convention, you're the man.•
__________
Early served in the Indiana House and as a Republican state chairman, as well as on the Republican National Committee. Send comments on this column to [email protected].
Please enable JavaScript to view this content.