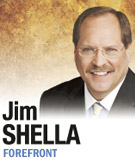 Richard Mourdock is raising questions about Richard Lugar's residency as a part of the GOP Senate primary battle now under way. Tea Party supporters of Mourdock are trying to turn those questions into crimes. "Isn't Charlie White a convicted felon because he did what Lugar has been doing since the late '70s?" wrote one recently.
The answer is no. Not even close.
White is a convicted felon because he lied and got caught doing it. It just so happens that he was lying about his home address. Oh, and he did it so that he could keep a seat on the Fishers town council representing a district where he no longer lived. He got paid for that, so he was convicted of theft, too. The White case was all about deception.
Lugar has made no secret of the fact that he lives in Virginia. The Lugar family sold its home in Indianapolis in 1977 but the home remains his voting address.
The senator works in Washington, D.C., where he is engaged in federal service representing Indiana (his campaign pointed out that it is not unlike military duty). Under that circumstance, he is not required to maintain an Indiana residence.
The Marion County voter registration board issued a document accepting that arrangement in1978 and the attorney general at the time, Ted Sendak, gave it his stamp of approval. Nothing has changed since.
Others have handled the residency situation in a similar fashion. When Lee Hamilton was in Congress, I was assigned to seek out sentiments from his neighbors. It was at the time Hamilton was named to lead the investigation into the Iran Contra affair. I researched his voting address, found the house, and knocked on the door. Dick Stoner, former top executive at Cummins, answered. It was his house. Hamilton used it as his voting address because he, too, lived in the D.C. area.
There has been a lot of disinformation and misinformation in Indiana politics of late with regard to the residency issue. Some of it has come from White as he tried to confuse matters before a jury cut through the clutter. He said his circumstance was similar to Evan Bayh's when the GOP challenged the Bayh residency in 1988. Wrong.
Bayh was challenged on the fact that he had not been living in Indiana for five years before a run for governor, a requirement in the state constitution. The facts showed that Bayh was living in Washington, D.C., for a portion of that time. The judge ruled, however, that since Bayh was working as a clerk for a federal judge he was engaged in federal service. See above.
Since his conviction, White has argued that Mitch Daniels commits voter fraud when he votes using the address of the governor's residence instead of the Hamilton County home where he lays his head most nights. The fact that the state-owned home at 46th and Meridian streets is the governor's "official residence" is apparently lost on White.
You're going to hear more about residency matters before the year is out. Look for questions about 5th District congressional candidate David McIntosh's residency. He rented a place in Pendleton when he decided to run. His main address is in Virginia, too. He works in D.C. in a job that that doesn't qualify as federal service.
Opponents have begun a whispering campaign that suggests he has a problem because he has a Virginia driver's license and is registered to vote here. My guess is that McIntosh will have things in order before the primary election.
If he's a carpetbagger, it will be up to the voters to make that finding. And it's the same with Lugar. You can criticize him for staying in a hotel and draw the conclusion that he's out of touch, but he's on the up and up.
Comparisons to Charlie White are out of order.•
__________
Shella is WISH-TV Channel 8's political reporter as well as host and producer of the Emmy-nominated "Indiana Week in Review." Send comments on this column to ibjedit@ibj.com.
Please enable JavaScript to view this content.