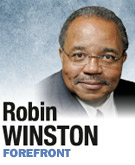 February marked Black History Month, a month when we recognized achievements of African-Americans and many of us made our best effort to resolve that we would practice the tenets of racial reconciliation.
Black History Month originated in 1926, when Carter G. Woodson led the effort to establish "Negro History Week." It was originally designated for the second week in February to coincide with marking the birthdays of Abraham Lincoln and Frederick Douglass. Later, the week was expanded to include the entire month of February and designated Black History Month.
During Black History Month, African-American history is taught to thousands of students at the elementary, high school and university levels. African-American history is an extremely important part of American history, and it is almost impossible to find an American history textbook that does not include passages about black history. Many communities in our state celebrate Black History Month in various ways.
Here in Indiana, we have sterling examples of black history and remember those who blazed the trail for equality. Many of those efforts are noted in public displays along our streets and in our neighborhoods. If efforts to highlight the contributions of prominent Hoosiers along Georgia Street come to fruition, some noteworthy African-Americans will be recognized in the heart of our downtown.
Today, I write about one of the absolute best examples of that historical significance right here in our community. William "Bill" G. Mays is a role model to business, community, civic and faith-based leaders. He remains a continued presence and adviser to countless entrepreneurs and socially active groups in our community.
Born in Evansville, Mays benefited from parents who were strong advocates of higher education and encouraged him to excel in his studies. Those efforts helped him graduate at the top of his class in high school. A chemistry major at Indiana University, Mays also received an MBA from IU in 1973.
Already blazing the trail for future generations, Mays worked for four years as an assistant to the president at Cummins Engine Co. Mays ascended quickly in the corporate world and served as president of Specialty Chemicals, a small distribution plant in Indianapolis. Under his leadership, sales rose from $300,000 to more than $5 million. Mays stood strong on his principles of equality and left the firm due to a lack of minorities on the company's board.
That decision was the impetus for something that changed his life and, more important, the lives of entrepreneurs and corporate leaders here and around the nation.
Formed in 1980, Mays Chemical Co. specializes in providing chemical products to the food, pharmaceutical and automotive industries. It began as a one-person operation with Mays processing and filling each order himself.
Now in its 32nd year, the company has grown to include numerous facilities and the firm has won numerous awards for excellence. At the national level, Mays Chemical is consistently ranked in the top 20 minority-owned companies.
Mays' efforts at community involvement saved The Indianapolis Recorder, the nation's fourth-oldest African-American newspaper. He has been a steadfast advocate for the NAACP and, via the Mays Family Foundation, thousands of dollars fund youth development and education.
Proving that excellence trumps everything, he served as the first African-American chairman of the Indianapolis Chamber of Commerce and the first African-American appointed chairman of the Indiana Lottery Commission. He holds honorary doctorate degrees from IU and the University of Evansville.
Winston Churchill said it best: "You make a living by what you get, but you make a life by what you give." Black History is the result of hard work, triumphs and a commitment to making a difference.
As an entrepreneur and an African-American, I can attest that Mays is the perfect example of why we need to always celebrate the achievements of Black History Month.•
__________
Winston is president of Winston/Terrell Group, an Indianapolis-based government affairs, public outreach and community relations firm. He was chairman of the Indiana Democratic Party from 1999-2001. Send comments on this column to [email protected].
Please enable JavaScript to view this content.