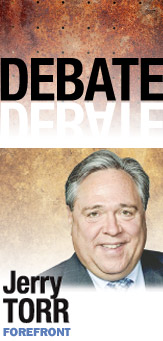 Question: Will the adoption of right-to-work legislation affect results of the general elections in November?
Answer: Conventional wisdom among Indiana Democrats seems to be that right-to-work will be a great campaign issue for them in November because we have somehow "awakened the sleeping giant." Even some seasoned Republicans cautioned against pushing right-to-work this session, reminding us that Republicans lost control of the House in 1996 after enacting what was perceived as "anti-union" legislation in the 1995 session.
But times are different, and the issues are different. Right-to-work might not be as large a factor in the November elections as some may think and, if anything, the effect will be positive for Republicans who supported the law.
While the protesters made a lot of noise and clearly believed they were representing the view of a large majority of Hoosiers, reliable polling shows otherwise. Several polls conducted over the last couple of years showed about 65 percent of Hoosiers favored a right-to-work law (50 percent strongly favored), and by a 2-to-1 margin were more likely to vote for a Statehouse candidate who supported it.
Our own polling showed that even union members and self-identified Democrats supported right-to-work by slim margins (union members by 48 percent-to-46 percent, and Democrats by 47 percent-to-45 percent).
It may seem odd to some that nearly half of union members support a right-to-work law, but a right-to-work law doesn't take away any employee's right to join a union or to have the union bargain for him or her—it merely protects the freedom of the individual worker to decide for himself or herself whether to financially support a labor organization.
And the union "sleeping giant" isn't nearly as large as it was in 1996. Private-sector union membership is down significantly since then.
Furthermore, almost every union construction worker opposed the changes proposed to the prevailing wage law in 1995, while nearly half of union households support right-to-work. Observers who were there during the 1995 session will tell you thousands more union workers showed up to protest a common construction wage than we ever had protesting against right-to-work.
More important, by far the No. 1 priority that Hoosiers believed should be addressed by the General Assembly this year (by a 3-to-1 margin over second place) was creating jobs and keeping the economy strong.
During the summer study committee last year and committee meetings on House Bill 1001 and Senate Bill 269 this session, we heard incontrovertible testimony that Indiana was losing out on job opportunities because we were not a right-to-work state.
Site selection consultants and economic development experts told us that between a third and half of companies looking to move or expand excluded Indiana and other non-right-to-work states simply because we did not have a right-to-work law.
The ink was barely dry from Gov. Daniels' signature on HB 1001 when we were already hearing stories of employers adding Indiana to their potential expansion sites after hearing of the imminent enactment of Indiana's right-to-work law. Lawmakers in Michigan, Ohio, Wisconsin and elsewhere are scrambling to build support for right-to-work in their states, because they also know that Indiana's law will give us an edge in attracting new employers.
By the time the election rolls around in November, Hoosiers will see that Indiana's new right-to-work law didn't bust unions or destroy employees' bargaining rights as they were told it would do. And they will see evidence that in just a short time our right-to-work law will have already helped attract jobs to Indiana to help the more than 250,000 unemployed Hoosiers get back to work.
I'd be surprised if a single legislator gets defeated in November over support of HB 1001.•
__________
Torr represents House District 39, which includes parts of Carmel, Fishers and Westfield. He also is a client executive at Hylant Group. Send comments on this column to ibj.edit.com.
Please enable JavaScript to view this content.