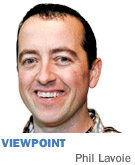 I grew up in Boston and, honestly, I never thought too much of Indianapolis. If anything, I viewed Indy as a suburb of Chicago. Ironically, that's like viewing Boston as a suburb of New York. I never would have imagined that I would not only be living in Indianapolis, but would also view the decision as one of the best I'd ever made.
My partner and I have been living in Indianapolis about six years now. Recently, I was voted vice president of the Broad Ripple Village Association and I joined a local tech startup, uFlavor, a company positioned well to disrupt the billion-dollar beverage industry.
In July, I retired from an amazing 13-year career as a systems engineer for some of the most innovative software companies of our time, including VMware, a major player in the cloud computing space that is so buzz-worthy lately.
Before living in Indianapolis, I had never even visited Indianapolis. I had been living in Chicago and visited friends in Atlanta a few times a year. Each and every time, I would take Interstate 465 in order to avoid the "traffic" of downtown. I hadn't ever laid eyes on downtown Indianapolis when I read an article about the city's affordability. We were planning for an early retirement and viewed a move to Indiana as a way to accelerate our plans.
Chicago is a world-class city, complete with all the amenities that come with such a label, but I would argue that it is much easier to enjoy the amenities offered by Indianapolis. In Chicago, I would spend two hours in a commute home, $200 for a night out, and parking was truly inconvenient.
Indianapolis, on the other hand, is extremely accessible. I enjoy something the city has to offer at least twice a week, and rarely does my evening's cost approach the comparative experiences of our Illinois neighbor to the north.
My guests from out of town are always amazed at how well our little city makes them feel like they've taken a real vacation.
I'm also impressed with the cooperative spirit in this city. While a member of an enterprise sales organization, I always enjoyed my customer interactions. It was an extremely rare occasion to find some of the non-productive "edge" that seemed so common in Chicago and Boston.
This cooperation is further highlighted when you view Indianapolis' art and music scene, foodie crowd and startup community. We have fantastic social communities. Projects like Big Car, ORANJE, Indy Winter Farmers Market, Dig-IN, Verge, Dreamapolis and Indy's Kitchen all highlight what can happen when we have an idea and help one another succeed.
Madame Walker and Indianapolis Motor Speedway highlight a strong history of ideas and execution rising to the top. It is an easy city to try a new venture, as the cost of making a mistake is nowhere near the cost of making the same mistake in New York or San Francisco.
A city with affordable experiences, great neighborhoods, spirit of cooperation, and an ability to execute upon your ideas make Indianapolis one of the country's best-kept secrets.•
__________
Lavoie is vice president of the Broad Ripple Village Association. Send comments on this column to ibjedit@ibj.com.
Please enable JavaScript to view this content.