Ticket and sponsorship sales for the latest major golf event scheduled at Crooked Stick Golf Club in Carmel are well under par. In golf parlance, that means they're exceeding expectations—big time.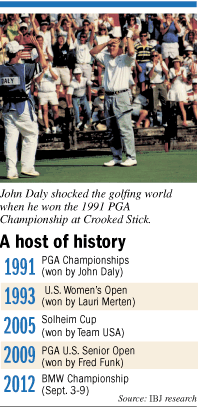 The overwhelming early success of the BMW Championship—to be held Sept. 3-9—already has Crooked Stick officials looking to the next tee.

Though they declined to divulge specifics, Crooked Stick and PGA officials said the golf club is lining up a bid for a future big-time tournament.

The primary targets, sources familiar with the plans said, are another BMW Championship, the U.S. Open or PGA Championships. Those are the three biggest men's golf events, along with the Ryder Cup, that rotate sites.

But right now, the focus is on hosting the 2012 BMW Championship, the biggest golf tournament to be staged in Indiana since John Daly won the 1991 PGA Championships at Crooked Stick.

"Whether or not we get another major event may pivot entirely on how we conduct this event," said Tom Buck, a 21-year Crooked Stick member and co-chairman of the committee that helped bring the BMW Championship to the Hamilton County club. "It looks like right now we're going to have an outstanding event. But we have to keep our eye on the ball all the way to the end."

Early signs are good.

The BMW Championship played in Chicago last year before less-than-stellar crowds. Golf industry experts think attendance at the tournament this year in Indianapolis could be double that of the 2011 event. (Photo by Charles Cherney/WGA)
More than a month before single-day tickets go on sale April 1, sales for this year's BMW Championship have exceeded total ticket sales for last year's event in Chicago.

Tickets for the week-long tournament continue selling briskly at $195, said officials for Chicago-based Western Golf Association, the tournament's operator. Daily tickets will be $75. Though the WGA is in charge of the event, Crooked Stick and local tourism officials are instrumental in promoting it and selling sponsorships and tickets.

WGA officials declined to divulge last year's attendance at Cog Hill Golf Club, but said they expect attendance this year to be a near-record of at least 150,000 for the week. That should bring an economic impact in excess of $30 million to the region, said WGA and local tourism officials.



Encouraged by early sales, Buck thinks the impact could approach $50 million.

Crooked Stick has already proved it can draw crowds. The Solheim Cup—despite an unpleasant heat wave that roared through Indiana in 2005—drew a record 110,000 spectators. The 2009 U.S. Senior Open drew a week-long crowd of 147,000.

Some within the PGA said they've been surprised by the success of the event in Indiana—not traditionally seen as a hotbed of golf. But WGA officials are fast becoming believers in the strength of central Indiana's golf market.

"They have a premier facility here and a strong and growing golf sector," said Vince Pellegrino, WGA vice president of tournaments. "We knew the event would do well here, but our expectations have maybe even been exceeded. We're ecstatic right now."

The strength of this year's event will help cover an eight-figure budget—including an $8 million purse—and leave more than $2 million in proceeds to be donated to the Evans Scholars Foundation, a not-for-profit that awards college scholarships to caddies.

Despite strong sales, local tourism and golf officials have no intention of taking their feet off the accelerator.

The Hamilton County Convention & Visitors Bureau has dedicated more than $40,000 toward marketing the tournament and hosting hospitality events that week.

"We've entered a cooperative agreement with the Western Golf Association to target just about every major city within a four-hour drive of here," said Karen Radcliff, Hamilton County Convention & Visitors Bureau deputy director.

Radcliff expects that effort to draw up to 45,000 visitors from outside the area. As part of the promotion, the Hamilton County CVB is offering travel packages for the BMW Championship that include golfing at area courses and discounts at Hamilton County restaurants and retailers.

Corporate cha-ching

Tickets aren't the only thing selling well for the BMW Championship, which is the third of four events that determine who wins the FedEx Cup, one of professional golf's top prizes.

Thirty of 33 corporate hospitality tents along the course are sold. Those tents sell for $50,000 to $250,000 for the week, food and beverages excluded. Seventy-five percent of the dozens of 12-seat corporate hospitality tables inside Crooked Stick's clubhouse are sold. Those sell for $32,500 for the week.

While central Indiana will never be confused with golf draws like Florida and South Carolina, those in the local golf industry aren't completely surprised by the early success of the 2012 BMW Championship.

"The sport of golf brings in the highest, most affluent demographic there is, so I'm not stunned that so many area companies would want to be involved in this event," said Milt Thompson, who is president of a local sports marketing firm and co-owner of The Trophy Club golf course in Lebanon. "It's not every day the world's best golfers play in your own back yard. I think this area is somewhat starved for events like this."

Decades-long effort paying off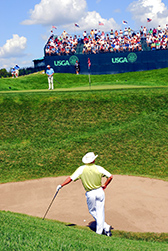 Greg Norman and other well-known professionals played before huge crowds at Crooked Stick during the 2009 U.S. Senior Open. (Photo Courtesy Crooked Stick Golf Club)
While Crooked Stick has succeeded in hosting major events, the success of professional golf tournaments in Indianapolis isn't a given. The Comfort Classic—a PGA senior tournament—folded after a 13-year run at the Broadmoor Country Club and Brickyard Crossing Golf Club due to waning attendance and the loss of a major sponsor after the 2000 event.

Thompson pointed out that it's more than golf's rich demographics that are making the 2012 BMW Championship a hit.

"The leadership, especially of Crooked Stick, along with leaders in Hamilton County, have carefully tried to position themselves as a market for golf," Thompson said. "What you're seeing now are the dividends of that effort."

Since the early 1990s, Crooked Stick has slowly built a reputation as a venue that can handle some of the world's biggest tournaments.

Leading up to the 1991 PGA Championship, the club and the Hamilton County CVB formed the blueprint for a plan to lure big-time golf events that still guides the area today.

With each success, Hamilton County and the course designed by famed designer Pete Dye have gained status among professional golfers and PGA officials, Buck said.

Crooked Stick used the success of 1991 to land the 1993 U.S. Women's Open, 2005 Solheim Cup, 2009 PGA U.S. Senior Open and this year's event.

"It's extremely difficult to win the bid for even one of these events," said Mike David, executive director of the Indiana Golf Office, the PGA organizing and sanctioning body for golf in Indiana. "So when you're able to attract a succession of these events, that really says something about the leadership of local event organizers."

"Hamilton County is one of the fastest-growing populations in the U.S. and we have a growing golf culture here with a number of championship-caliber courses," Radcliff said. "Our central location helps draw visitors, and our community members have shown they'll support such events."

Return date?

There's no shortage of cities trying to lure the BMW Championship, whose winners have included Tiger Woods, Jack Nicklaus and Tom Watson.

"This event will feature the top 70 professional golfers from around the world," David said. "It's a huge draw."

The BMW Championship—formerly known as the Western Open—returns to Chicago next year, then heads to Denver in 2014. St. Louis has also been a recent host.

So when will big-time golf return to central Indiana?

That starts with pleasing sponsors, Buck said.

"What we're trying to do is position ourselves in the world of golf to bring the very best golfers in the world here every five or six years," Buck said. "To do that, we have to show our corporate partners that what they pay for sponsorships or hospitality is not charity, that there's a real return on investment. And we think we've done that and continue to do that."

More than 80 percent of companies involved in the BMW Championship are carryovers from the 2009 U.S. Senior Open, Buck said, adding that he is hopeful another 20 to 40 companies can be added to the more than 80 already involved.

"Despite the success and outpouring from the corporate community we've already experienced, we want companies to know there are still opportunities to be involved in this event," Buck said. "The selling season is still on."•