Ener1 Inc. is set to emerge from bankruptcy, while Bright Automotive is calling it quits—the latest signs of the turmoil sweeping through the hybrid and electric engine industries.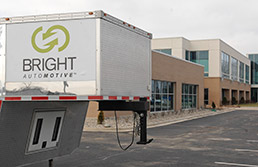 Former EnerDel executive John E. Waters assembled a "dream team" of automotive engineers in the early days of Bright, at Anderson's Flagship Enterprise Center. (IBJ File Photo)
Both firms appeared a few years ago to be poised to hire thousands of workers. But they slid into a tailspin as anticipated federal funding failed to materialize and the market prospects for hybrid and electric engines dimmed.
In a Feb. 28 letter to the U.S. Department of Energy, Bright executives said they could no longer meet payroll and would cease operations.
The letter, to Energy Secretary Steven Chu and signed by Bright CEO Reuben Munger and Chief Operating Officer Mike Donoughe, is highly critical of the Department of Energy for failing to provide Bright with a $450 million low-interest loan.
Bright said the DOE essentially strung the company along while it tried to land funding through the Advanced Technology Vehicles Manufacturing loan program.
The loan would have been used to finance production of the IDEA, Bright's plug-in hybrid delivery van, which it hoped would achieve fuel economy of 100 miles per gallon.
Bright said DOE officials offered four sets of tentative loan agreements over the three years, but each time beefed up the requirements the company had to meet. The last loan offer, the letter said, "was so outlandish that most rational and objective persons would likely conclude that your team was negotiating in bad faith."
"In good faith we entered the ATVM process, approved under President Bush with bi-partisan Congressional approval, in December of 2008," the letter said. "At that time, our application was deemed 'substantially complete.' As of [Feb. 28], we have been in the 'due diligence' process for more than 1,175 days. That is a record for which no one can be proud."
Bright was founded in January 2008 at the Colorado-based Rocky Mountain Institute and soon opened an engineering facility at Anderson's Flagship Enterprise Center.
Bright said it planned to build a manufacturing facility employing as many as 1,000 workers and producing 50,000 vehicles a year, possibly in Indiana.
The company announced last October that it was working on a deal with AM General to build vehicles at the Hummer 2 plant in Mishawaka that would have created about 300 jobs.
Bouncing back
Ener1, parent of locally based EnerDel, announced Feb. 29 that a federal court had approved its bankruptcy reorganization.
The battery-maker, which filed for Chapter 11 protection late last month, expects to come out of the court reorganization by mid-March.
Under Ener1's plan, it plans to secure up to $86 million in new equity funding and restructure its long-term debt. In addition to the added funding, Ener1 said some creditors have also agreed to restructure their debt in a partial debt-for-equity exchange.
All the current common stock will be canceled when the plan becomes effective.
The company has been hurt by heavy competition from other countries, especially China.
Ener1 Inc. was the third company to seek bankruptcy protection after receiving assistance from the Energy Department under the economic stimulus law.
Ener1 subsidiary EnerDel received a $118 million stimulus grant from the Energy Department in 2009. California solar-panel-maker Solyndra Inc. and Beacon Power, a Massachusetts energy-storage firm, declared bankruptcy last year. Solyndra received a $528 million federal loan, while Beacon Power got a $43 million loan guarantee.
At one time, Ener1 leaders said they planned to have 1,400 employees working in Indianapolis-area operations before 2015, but local employment slipped from about 380 in March 2011 to roughly 250 by November.•
 
Please enable JavaScript to view this content.