Politics aren't discussed much in Yasmina Reza's "God of Carnage" (at the Indiana Repertory Theatre through March 24). But after watching a performance, you might find yourself wondering how global superpowers—let alone political parties or religious groups—can possibly get along when the play's two seemingly civilized couples can't even have an 85-minute discussion without leaving emotional shrapnel everywhere.
That tight time frame—without intermission or scene change—is a source of much of the urgent pleasures of the play, which has become one of the hottest shows in regional theaters across the country after award-winning success on Broadway.
 
The intention is a civilized discussion. The result is quite different in "God of Carnage." (Photos/Julie Curry)
A precursor to the onstage action: The child of the Raleighs (Constance Macy and Ryan Artzberger) strikes the child of the Novaks (Shannon Holt and Tim Grimm) during a name-calling incident in the park. It's up to the alleged grown-ups to sort things out—at least that's the thought of Veronica Novak, who organizes the meeting that composes the play.
What follows shouldn't be a surprise in a play with this title. Weaknesses are found. Wounds are forced open. Defenses are shattered. Allegiances shift. Alcohol is consumed. And metaphors fly.
Those are some of the same elements at play in "August: Osage County," another recent award-winning comedy/drama, finishing up a run across town at the Phoenix Theatre. But "God of Carnage" doesn't operate on anywhere near the scale, and it at times feels like a prolonged sketch rather
than a play. That isn't to say it isn't funny and trenchant. It's both. It just doesn't go far below the surface. And it didn't help that, early in the run at IRT, the game cast seemed to be working without benefit of a directorial vision. As such, what should have been a unified and steadily building whole instead often felt like an unconnected series of skirmishes.
Still, especially in the hands of Macy and Grimm, those skirmishes proved solidly entertaining. And I had the sense—and I hope I'm right—that I tasted this one before it had fully cooked.
__________
I don't think additional cooking time will help Lisa Kron's "The Veri**on Play," a painful attempt to turn a sketch idea into a full-length play having its world premiere as part of the Humana Festival of New American Plays at the Actors Theatre of Louisville.
The Humana Festival has a rich, 36-year tradition as a launching pad for terrific work, including the Pulitzer-winning "Dinner with Friends" and the perennial "Crimes of the Heart." But every risk-taking festival needs to hit the wall once in a while and, well, this one leaves a pretty deep dent.
The premise is eminently relatable: Jenni (played by the playwright) can't get her cell phone service provider to remove a mistaken charge from her bill. She's soon part of a customer service victim support group that inexplicably sets off on an around-the-world trek to find the source of a conspiracy to annoy the public. Of course, that source turns out to be very close to home.
No amount of stage trickery can cover the fact that Kron doesn't know where to go from her whiney premise. No cartoon-y characters can cover up the lack of a central character whose fate we care about. And no musical finale can reignite a play that loses its energy after stating its premise. "The Veri**on Play" feels like something concocted during a night of improvisation, without creators interested in the hard work of editing, polishing and otherwise developing.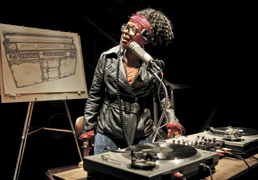 Crystal Fox spins records and fills in for multiple characters in "How We Got On," part of the Humana Festival of New American Plays at Actors Theatre of Louisville. (Photo/ Alan Simons)
A second play caught early in the Humana Festival, "How We Got On," by Idris Goodwin, does have sincere, appealing characters and original elements. It just lacks spark to make it sing as clearly as it might.
It's the 1980s, and "Yo! MTV Raps" is taking rap music to the suburbs. Two relatively mild-mannered teens stand out in a predominantly white community not just because one is black and the other Hispanic, but because they both want to be the biggest MC on the Hill. Goodwin gets the awkwardness of adolescence, and actors Terrell Donnell Sledge and Brian Quijada are wonderfully expressive about their art in development. But the result doesn't add up to much more than a good "Afterschool Special," even with an on-stage DJ giving the show its own rhythm.
Is one disappointing and one good-enough show going to keep me from making another trek to Louisville to see the rest of this year's Humana Festival? Absolutely not. In fact, I already have a full weekend scheduled to catch the rest. More details at www.actorstheatre.org.•
__________
This column appears weekly. Send information on upcoming arts and entertainment events to lharry@ibj.com.
 
Please enable JavaScript to view this content.