There's a fine line between a large meatball and a small meatloaf, and the folks in the kitchen at Rick's Café Waterfront (2930 Waterfront Parkway West, 290-9300) have crossed it without looking back. The two wrecking balls are the centerpieces of the Spaghetti & Meatballs ($13) at the new sister eatery to the long-standing Rick's Café Boatyard.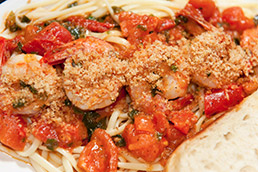 Jumbo Shrimp Scampi at Rick's new café is served with fresh basil and Roma tomatoes. (IBJ Photo/ Perry Reichanadter)
Although open just a few weeks, Rick's follow-up venture doesn't have that new-restaurant vibe. Blame that on the fact that Café Waterfront takes over a space at the Clarion Hotel Waterfront and, as with most hotel restaurants not on the beaten path, atmosphere is largely dictated by the hotel's occupants on that particular evening. On one trip, it was largely solo businesspeople grabbing a bite before calling it a night. On another, it was a lively group of game players splurging on a real meal between convention activities. The spacious room can also feel empty if hotel population is down.

Assessed as an option for those already in the building, Rick's Waterfront is likely to surpass expectations. The aforementioned meatballs hung together well and were evenly cooked, topping a hearty plate of housemade pasta in a flavorful tomato sauce. It's difficult to imagine a hungry traveler complaining. Chicken Parmesan ($15), served over fettuccine alfredo, similarly satisfied, as did Jumbo Shrimp Scampi ($19), sautéed and served with fresh basil and Roma tomatoes. Tempura Fried Calamari ($10) didn't make a statement, but neither did it offend. And the Italian Salad ($5/$3 with entrée) was sizable if not creative.

I'd be a bit disappointed, though, if I were hotel-bound and ordered the hand-tossed Pizza ($8/$10 plus $1 per topping), which didn't improve on delivery chains. And I'll take the blame for not reading the menu closely enough to see that the alleged Stromboli ($10) was really just an unappetizing dumping ground for pizza toppings on an Italian roll.•

__________

Second in a month-long series of reviews of Italian-themed restaurants.