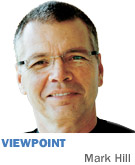 As an entrepreneur and angel investor, I have had opportunity to be part of a number of teams that are building thriving companies. All those groups share a mode of operation that enabled them to produce positive results: They have great leaders who attract talented people, give them autonomy to do their jobs well, and hold those employees accountable for results.

If the same formula were applied to Indianapolis Public Schools, talented teachers and school leaders within the district would produce significantly better outcomes for students.

In December, The Mind Trust, an education reform not-for-profit, released a report proposing a dramatic overhaul in the way IPS operates. In its report, "Creating Opportunity Schools: A Bold Plan to Transform Indianapolis Public Schools," The Mind Trust recommended shifting tens of millions from the control of IPS' centralized bureaucracy to individual schools; investing in high-impact initiatives such as preschool for all 4-year-olds, without raising taxes; and shifting governance of IPS from the diffuse power structure of an elected school board to mayoral oversight, which would produce a single point of accountability.

The plan calls for other critical elements that would create within IPS the same kinds of conditions seen at any successful organization.

At schools that meet high performance standards—called Opportunity Schools—school leaders would be able to make critical decisions, such as how to spend the school's money, whom to hire, how long the school day should be, and what curriculum should be taught. That would be a drastic shift from the current top-down management structure under which the IPS central office makes those decisions.

But it wouldn't come without strong accountability. In order to earn and keep such freedom, those excelling Opportunity Schools would be required to maintain top-notch performance.

And to ensure that IPS has an ample supply of talent, the plan calls for setting aside $2.5 million annually for recruiting school leaders and educators to Indianapolis.

My own experience as a business leader tells me those conditions would improve IPS' results.

By structuring the district in a way that provides an avenue for school-level leadership to achieve autonomy, Indianapolis would become a destination for talented school managers who want the chance to be strong leaders of their organizations. Those leaders would draw excellent teachers who would be empowered to deploy top-notch classroom instruction.

All students would have a chance to thrive, and many would. After all, urban schools across the country are proving students from even the most difficult circumstances can succeed if provided the right learning conditions.

The need to make these kinds of changes at IPS, where only 45 percent of students meet state standards on the English and math portions of state tests, is urgent. Increasingly, our advanced economy demands workers with the ingenuity and critical-thinking skills to perform a growing number of high-tech jobs.

Everyone who is part of IPS wants children served by the district to be successful. But as teachers and others within the system have pointed out, the bureaucratic structure has stifled the innovation needed to keep our educational system in sync with the constant changes in our society.

Changing student outcomes will require changing how IPS works in a way that employs the bold thinking and big ideas put forth in The Mind Trust plan. That kind of dynamic approach is a hallmark of our city.

I hope we can gather the courage to move forward as a community—at a time the stakes are highest—to enhance the future of 33,000 of our children.•

__________

Hill is managing partner of Collina Ventures LLC, a private investment firm focused on technology companies, and chairman of the Central Indiana Community Foundation.