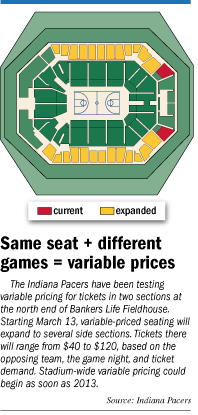 The Indiana Pacers are looking to become one of a handful of NBA teams to scrap their traditional static ticket pricing system for one resembling the fluctuating model employed by airlines.
This year, the Pacers have tested what team officials call a "dynamic" pricing model with about 200 seats in sections 109 and 112 in the club level.
Starting March 13, the team is expanding the model to 2,000 seats throughout most of the club level, including sections 102-109 and 112-120. In the new model, ticket prices can vary based on whom the Pacers play, night of the week the game is played, and overall demand.
Ticket prices also could be adjusted to reflect such things as an injury to a key Pacer, an important midseason trade or free-agent acquisition, team officials said. Club-level tickets in the test area fetch about $35, less than half the cost of similar seats in the arena.
Pacers officials say they're trying to ensure the strategy won't create angst among season-ticket holders. Depending on the fluctuating market, in some instances season-ticket holders could see single-game buyers get tickets for less than they paid.
Bankers Life Fieldhouse has 18,165 seats, about one-third of which were purchased by season-ticket holders. The team is testing the system where the fewest season-ticket holders reside, but eventually season-ticket holders could be sitting side-by-side with folks who have taken advantage of the dynamic system to buy less expensive tickets.
Pacers officials are contacting season-ticket holders to explain the system. Season-ticket holders won't be subject to dynamic pricing until the 2013-2014 season at the earliest, said Todd Taylor, Pacers senior vice president and chief sales and marketing officer. He added that the new system shouldn't cost season-ticket holders any more in the long run.
Pacers officials are exploring options to protect those ticket holders' interests.
"Season-ticket holders must be put first in this equation," Taylor said. "We know we need to protect the value of the season-ticket holders."
The Pacers have developed an in-house system to test and analyze dynamic ticket pricing this year, but are in discussions with private firms to handle it in the future.
"We chose to review this season's assessment internally to offer a neutral opinion to truly identify what is best for our market," said Derek Throneburg, Pacers vice president of ticket sales and strategy.
Filling seats
Pacers officials say they wanted a way to fill the arena and create buzz about the team throughout the market. They insist the change isn't driven by lagging attendance.
The Pacers last season were last among 30 NBA teams, with an average attendance of 13,538 for 41 home games. And though the team currently has the third-best record in the Eastern Conference, attendance has dipped to an average of 13,534 for the first 16 home games. The team dropped into last place in attendance following its March 6 home game, which drew 11,393.
"We want to broaden the fan base by widening the price point," said Throneburg, who was hired away from Major League Baseball's St. Louis Cardinals in January to help implement dynamic pricing here.
The Cardinals and San Francisco Giants are widely regarded as the pioneers in dynamic, or variable, pricing. The Giants began testing it in 2010, and the Cards instituted it in every area of their ballpark in 2011. Officials for both teams said the system has been instrumental in increasing attendance and revenue.
The Pacers, Throneburg said, won't be quite as aggressive as St. Louis was.
"We want to thoroughly test this to see what the response is," he said. "We want to be very analytical in our approach."
The plan, explained Taylor, is to expand the program this year and gather data on how it affects sales. If all goes well, he added, the program will be marketed heavily next season to push people to Pacers.com to check on the shifting ticket prices as a lure to get people to games.
If the system is embraced by fans and drives attendance gains next season, it could be broadened to the entire arena for the 2013-2014 season, Taylor said, and could include variable per-game pricing for season-ticket holders.
While the system might mean season-ticket holders are paying more for tickets to see Miami than Sacramento, Taylor said they might pay less for others.
At this point, there's no plan to include suites in the plan.
Taylor said the team's focus initially is maximizing attendance, not necessarily revenue.
"Our main objective right now is to get more people in the arena, create more fans, and build a buzz through word-of-mouth personal endorsements. We think from there, revenue will grow," added Taylor, who was hired away from the Texas Rangers in June and also has worked for the Milwaukee Brewers, Portland Trailblazers and National Hockey League's Columbus Blue Jackets.
While interest in dynamic pricing in professional—and even college sports—is growing, the Pacers appear to be on the front edge of the trend. The NBA's Atlanta, Houston and Utah teams began using dynamic pricing last year, and Minnesota, Washington and Golden State jumped in this year.
Several NHL teams also use variable ticket pricing, but no NFL teams have adopted the system.
"There's no question, this is the wave of the future," said Mark Rosentraub, a dean at the University of Michigan who has written several books on professional sports operations. "Airlines have demonstrated this system generates more revenue than a static pricing system."
The theory is that selling a seat at a discounted rate is better than having an empty seat.
"Studies have shown that oftentimes what a fan saves on the ticket price he'll spend on other items at the arena like concessions," Rosentraub said. "If it enhances the bottom line, teams don't care if it comes from tickets or ancillary spending."
Rosentraub said sports teams' hands were forced by the explosion of the secondary market and Web-based operations such as StubHub, which in many cases undercut a team's box office for less-desirable games.
"My gut is, whether it's every seat in the arena or not, this is the future of sports, and we have to stay out front of this," Taylor said.
Former grocery store executive Danny O'Malia, a Pacers season-ticket holder since the team played its first season in the ABA, is one longtime supporter who doesn't bristle at dynamic pricing.
"They have to take care of the people who have been with them a long time, but I'm for the Pacers doing whatever moves them forward," O'Malia said.
O'Malia, an Xavier University graduate and season-ticket holder to the school's men's basketball team, said he's seen dynamic pricing work for his alma mater.
"If you go by the law of supply and demand, it makes perfect sense," O'Malia said. "Personally, I don't have much of a concern about variable pricing."
Cardinals officials saw some initial pushback from longtime supporters in St. Louis, Throneburg said, but it was short-lived.
"We know some people can be leery, and we saw that in St. Louis," Throneburg said. "But once you explain that it's a win-win for everyone, it's widely embraced."
As part of the dynamic program, Pacers officials may give season-ticket holders an opportunity to sample better seats.
Taylor said season-ticket holders also benefit by getting the first choice of seats and by not being subject to price increases due to sudden spikes in demand—as happened this year with New York Knicks games at the Fieldhouse because of the emergence of Jeremy Lin.
O'Malia thinks once local residents come to a game, they could be hooked, and that could have a positive effect on everyone's ticket value.
"Some people can't let it go, but the brawl in the [Detroit] Palace is long gone," O'Malia said. "There isn't a guy on this team you can't like on a personal level. This team is winning more, they're fun to watch, and they play hard and they play together."•
Please enable JavaScript to view this content.