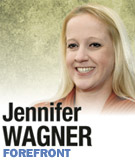 Not long ago, I found myself listening to an oral argument before the Indiana Supreme Court.

If you've never been to the Statehouse courtroom where the justices conduct most of their official business, I recommend you stop by. It's a beautiful room, and you can't help but be impressed by its judicial feel: rich wood paneling, oversized desks and, of course, the bench itself.

When you're there for more than a few minutes, you begin to pay even closer attention to the details, chiefly the mosaic of aging photos behind the rows of neatly lined chairs.

It's a wall of fame for Indiana lawyers, pictures of the more than 100 former high-court justices who've served our state by interpreting our laws, passing judgment on our citizens, and setting legal precedent for decades to come.

There's something striking about these austere photos, attorneys once elevated to an elite professional club, now left to fade in the afternoon sun.

What is it?

Why are these images so oddly haunting?

Because there's something missing: ladies.

The latest U.S. Census tells us that slightly more than half of Hoosiers are female, but in the entire history of the Indiana Supreme Court, only one—that's right, one—woman has been tapped to don a robe and join the boys on the bench.

As a 30-something female attorney, it's a discouraging historical fact.

I was just learning how to walk when President Reagan appointed Sandra Day O'Connor as the first female member of the U.S. Supreme Court in 1981. Reagan had promised to appoint a woman to the court during his 1980 campaign.

Six years prior, Indianapolis voters elected the first woman to the Marion Circuit Court.

Yet it wasn't until 1995 that Myra Selby became the first woman—and first African-American—to serve on the Indiana Supreme Court.

When Chief Justice Randall Shepard announced he would retire this year, my first thought was to grieve the loss of judicial knowledge. Shepard has had an impressive career, capped in the last decade by his public support for local government reform alongside former Gov. Joe Kernan.

My next thought was to wonder if we might finally be ready to appoint another woman to the court.

Three of the seven semifinalists for the position were female, but, alas, only one made the cut to the finalist round.

I hope she's selected, and here are three reasons why:

Though they vote separately, courts are not merely panels of judges who individually determine cases and matters of law. Justices talk to one another, conference together, argue about the issues in chambers. They have independent personalities, but each court takes on a unique identity. That there is no woman in the room means our state is missing out on an important perspective.

Roughly half of all law students are women, and many of those female students go on to become attorneys in public and private practice. But there are still plenty of inequalities—salary gaps, accommodations for motherhood, and straight-up sexism—that haunt the female lawyer. It would be nice if women, especially young women, could look up at the state's high court and see someone who'd overcome those obstacles and made it to a position of legal prominence.

Finally, the Indiana Supreme Court is unique in its lack of historic gender diversity. I realize this is due in part to a lack of turnover on the bench, but it's more noticeable when there have been so many notable female appointments to other courts as well as women serving in high-profile roles such as U.S. attorney.

As a member of the bar, I'd never advocate appointing a less-than-stellar female lawyer over a stronger male candidate, but that's not an issue here. Semifinalists and finalists for the state's high court are vetted by their peers before the governor makes a decision.

With my fingers crossed, here's hoping the next time I sit through an oral argument, there's a fresh female face on the bench looking back at all those boys on the back wall.•

__________

Wagner is a lifelong Indianapolis resident who served as deputy director of public affairs at the National Nuclear Security Administration. Send comments on this column to ibjedit@ibj.com.