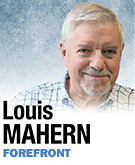 Just what is the current situation of a smoking ban in Indianapolis?

The Democratically controlled City-County Council passed a fairly strong indoor smoking ban in January. It did exempt tobacco shops, cigar bars and off-track betting facilities. It also permitted indoor smoking in private clubs that did not admit anyone under the age of 18. In order to have indoor smoking, private club members would have to so vote.

Mayor Ballard vetoed the ordinance, explaining that when he said "private" he meant "private." He also has said in the past that he believed veterans' clubs such as the American Legion and the VFW should be exempt because their members had defended our country. The mayor agreed to require a vote among the club members. But should the private club vote to allow smoking, the mayor wants them to be able to suspend smoking for one day in order to admit children.

The Democrats are basing their actions on the issue of worker and child safety. The mayor bases his on "private means private." He limits this argument to private clubs but not privately owned bars.

For over 40 years, we have regulated workplace health and safety. From conditions in coal mines and steel mills to the construction industry, workers are protected against conditions that endanger their health and safety.

Opponents of the smoking ordinance argue that bartenders and wait staff in bars don't have to work there. Would they make that argument regarding coal miners or steel workers?

The scientific basis for the dangers of secondhand smoke is irrefutable. The best estimate is that nearly 50,000 Americans die prematurely every year from secondhand smoke.

Why should "private club" employees be less deserving of protection?

Does having defended one's country give the right to endanger one's employees? What about the fact that those who are currently fighting and dying for our country are not permitted to smoke indoors? For nearly 20 years, indoor smoking has been banned at all U.S. military installations. Indoor smoking at Veteran's Administration medical facilities has been banned for about as long.

Apparently the sticking point between the council Democrats and the mayor is that the mayor thinks the residual smoke in these private clubs is not harmful to children. The Democrats think it is.

The Democrats appear to have science on their side. For at least three years, reputable, peer-reviewed and published studies reveal that so-called third-hand smoke lingers on indoor surfaces such as walls, floors, carpeting, furniture, drapes and dust for days, weeks and even months. This residue is particularly harmful to infants and toddlers because of their higher breathing rate and proximity to the floor and because they are much more likely to put their mouths on furniture and other surfaces.

One study's author, Jonathan Winickoff, of the Dana-Farber/Harvard Cancer Center, has said, "Third-hand smoke refers to the tobacco toxins that build up over time—one cigarette will coat the surface of a certain room, a second cigarette will add another coat and so on. Third-hand smoke is the stuff that remains after visible or secondhand smoke has dissipated from the air. Smokers themselves are also contaminated … smokers actually emit toxins from clothing and hair."

"There are 250 poisonous toxins found in cigarette smoke. One such substance is lead. Very good studies show that tiny levels of lead exposure are associated with diminished IQ."

Indiana University Health employees are now prohibited from smoking during the work day. Period. Dr. Richard Graffis, executive vice president and chief medical officer at Indiana University Health, describes third-hand smoke as, "The smoke you don't see, but that your nose tells you is there. You don't want these compounds to be around perinatal ICU or children who have respiratory problems."

If the mayor doesn't believe the science, he should say so. Otherwise, he should protect the children. "Private means private" is an excuse, not a policy.•

__________

Mahern has been an assistant to U.S. Rep. Andy Jacobs and U.S. Sen. Birch Bayh and served in the Indiana Senate. Send comments on this column to ibjedit@ibj.com.