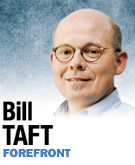 For 50 years, each generation has fled its concerns about urban Indianapolis by moving farther from its historic center. The result is a sprawling metropolitan area fringed with isolated "vinyl farms" that overtax our schools and roads for their brief years of popularity, then leave behind maintenance burdens on governments.

Meanwhile, our urban core has lost more than half its population and struggles with reuse solutions for more than 10,000 vacant homes. The national housing crisis might provide the chance to adjust our housing investments back toward existing neighborhoods … to the benefit of both homebuyers and our entire city.

During Indianapolis' first 150 years, each succeeding ring of growth was physically and economically connected to the previous one. This pattern changed in the 1950s, when a desire for suburban isolation from the city began shaping housing developments. The suburban impulse created car-oriented "pods" of growth that required huge investment in disbursed roads and infrastructure so residents could escape the rapid decline of the old city.

The massive momentum of suburban growth seemed unstoppable until the housing bubble's spectacular implosion severed the flow of capital that made it possible. Experts predict it will be five to seven years before production resumes at its previous pace.

This pause is an opportunity to attract homebuyers back into core neighborhoods—but only if we make urban living a compelling value proposition. Production builders made buying a house about as simple as buying a car. In contrast, older homes in urban neighborhoods often require complicated financing due to repairs needed for modern use. This complication, paired with buyer concerns about safety, quality of public education, and lack of transportation options, has limited the number of buyers interested in Indy's urban homes.

We can dramatically increase demand for urban living if buyers are educated on its benefits and have easy access to financing. The downtown revitalization, decline in violent urban crime, and recent explosion of urban educational options address traditional objections to urban living.

Hundreds of thriving middle-class urban families are raising children in the city, so the challenge is really how to spread this lifestyle to more residents.

Six key elements could ramp up demand:

• improved marketing,

• vacant homes quickly returned to the market,

• more homes on the market in livable condition,

• urban education reform,

• improved public transportation,

• and access to financing for buyers willing to renovate.

Efforts to market urban living are already under way by groups like Indianapolis Downtown and the City Gallery, but the efforts need to be expanded to a larger audience. The city's small land bank is taking title to "orphan" properties and making them available to renovators but cannot keep up with the volume of foreclosures.

The state is studying legislation that would enable expansion of the land bank to more creatively return more properties to use. Our growing core of successful urban schools has influenced The Mind Trust proposals currently under consideration to dramatically remake Indianapolis Public Schools.

Public transportation advocates are building a legislative base to allow Indianapolis to create an effective public transit system.

Finally, local lenders need to create acquisition/rehab products that are flexible enough to allow homebuyers who are willing to tackle major renovations to purchase and renovate through a single loan with reasonable terms.

If potential buyers are presented with a favorable message about urban living and vacant homes can be made available with appropriate financing, we can divert a significant number of buyers toward urban living.

This will take leadership from city government, banks and community development groups at a much more ambitious scale than Indianapolis has previously attempted, but it has the potential to change the future vitality of our city.•

__________

Taft is Indianapolis executive director of Local Initiatives Support Corp., a not-for-profit that invests in neighborhood redevelopment projects. Send comments on this column to ibjedit@ibj.com.