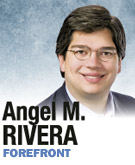 Two-thousand apartments will be built in Indianapolis over the next two years. They are expensive by Indianapolis standards and respond to a strong demand for upscale living in the downtown area.
It is a national trend that should inspire all of us to focus on the challenge of providing high-quality inner-city schools that allow our current neighbors to maximize their potential and encourage the new neighbors to make downtown a permanent home—and raise their children right here.
Government must lead, in partnership with private institutions, in creating an environment of educational innovation that promotes Indianapolis as the right place to raise families.
Affordability, high-tech jobs, public safety, and many amenities like our zoo, museums, professional sports, world-class hospitals, bike lanes, parks, an expanding dining scene, airport and interstate access all are attracting talent to Indianapolis. Many neighborhoods could be transformed.
The critical element missing is an unparalleled market of educational opportunities. We can fix this.
The large city that figures out how to consistently get its pupils to graduate and succeed will have a significant advantage in the competition for talent. The current national trend of young professionals moving into downtown districts creates the perfect environment for these schools to thrive. The new deputy mayor for education is responsible for guiding an integral part of our economic development plan.
Children from the urban core come from many backgrounds, and that melting pot of experiences, talent and vision can become a catalyst of great ideas—but only if the environment is there to embrace and support this activity. Over the course of last year's municipal elections, it became evident to me that the educational attainment crisis is on the minds of many of our neighbors.
The costs keep rising, performance is lagging, and a real fear that we are not preparing our pupils to be the leaders of the 21st century permeates among parents regardless of economic condition. Many of our community leaders express frustration with the continued inability of state-funded schools to succeed in getting younger generations to stay in school and improve their future prospects.
The initial rounds of education reform are showing many signs of acceptance by the public and increased numbers of quality schools within the inner city. The next rounds can achieve even bigger results.
The Mind Trust's plan for Opportunity Schools is a good start. It could be improved by including private schools—a real option for families of all incomes with vouchers and educational tax deductions—and a larger focus on decentralization. Decentralization is the key to the innovation and competition in education that can foster an environment where teacher evaluations, school grading and the flexibility of choice can combine to provide the best path for the success of currently underachieving students.
Other countries are experimenting and their success or failure can provide guidance in our efforts.
The Canadian province of Ontario decentralized its schools. Each school sets its own academic targets. The central government provides consultants and regular inspections to measure progress. Schools that are significantly behind can extend the school day or add more time with the students identified as needing extra help.
Right now, successful educational corporations are running schools in different U.S. states with promising results. As this industry grows, Indianapolis could be poised to attract their educators and become the hotbed of successful private school companies that can expand their model nationally.
Over the next two decades, we can transform ourselves from a place concerned about its brain drain to one that is a sponge soaking up talent from all over the world.
I would love to copy the British term for their form of deregulated government-funded schools: Free Schools. Maybe someday instead of 11 school corporations, "Indianapolis Free Schools" will be an association of independent educational institutions that attract talent to our city and equip our children, regardless of background, with the skills to win the competition for the jobs of the 21st century.•
__________
Rivera is a sales consultant and former at-large city-county councilor. Send comments on this column to ibjedit@ibj.com.
Please enable JavaScript to view this content.