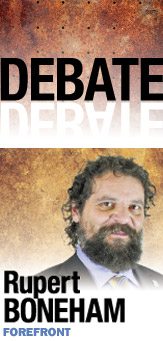 Question: What are some of the specific things you would do as governor to improve the economy and increase the incomes of Hoosier workers?
Answer: Every administration works hard to bring industry and major corporations within its borders. This is an important part of economic growth in Indiana.
On the other hand, that attention has neglected one other key part of economic growth: small-business development. New industries can be created in economic struggles like the one we are presently in.
When a person is out of work, some will see defeat. Others see opportunity. We need to encourage that entrepreneurial spirit in Indiana.
As I travel through Indiana talking to small-business owners, I frequently hear several issues.
First, our state government needs to lessen the barriers to entry. In places like Houston, a small business can be set up in one day. As a result, it has explosive job growth.
Here, state government has helped bring clarity and encouragement to the job placement and training marketplace through the Department of Workforce Development. Its programs make it easy to become an employee in Indiana.
Adopting a similar system to help business startups will help grow small business here in Indiana. We can do a better job of helping would-be small-business owners negotiate the hurdles and barriers they face in their startup phase. Providing pathways and assistance to these startups as they navigate the bureaucracy and regulatory agencies, as well as keeping regulatory barriers low for small business, will aid our small-business climate.
In addition, we can increase the effectiveness and fairness of the Indiana Department of Revenue. Several years ago, I had an unfortunate experience with that agency. Because of their clerical error, they claimed I owed thousands of dollars in sales taxes.
This left me with a negative opinion of state government. Unfortunately, this is a common experience for small-business owners in Indiana.
The state needs to shift the way the Department of Revenue sees small business. Once the state implements policies that treat small businesses as partners in state growth and removes other regulatory barriers to entering the marketplace, small business will be able to thrive.
Another area where Indiana can lead the nation is by reasserting our Tenth Amendment rights under the U.S. Constitution. We can see the encroachment of the federal government in the recent controversy in the north end of our state, when Elkhart County Sheriff Brad Rogers stood up to federal officials to protect the rights of a Hoosier dairy farmer who wanted merely to sell milk in Indiana.
Right now, bureaucrats in Washington are designing regulations that would impact family farms by dictating what kind of driver's license will be required to operate farm machinery on private land. These encroachments into the liberty of Hoosiers, and many others like them, have to stop.
Our governor needs to be standing tall against federal invasions into Hoosier liberty, with the force of the Constitution behind him.
Another example of how Indiana can be a leader in economic independence is by helping industries that grow and use fiber-based crops. This would put Hoosiers back to work making textiles, paper products, building materials and fuel alternatives.
All of these could be used within and by the state. Indiana was a leader in growing fiber crops in the World War II era, but lost that when federal regulation intruded into our agricultural industry.
It's time for Indiana to have a leader that will stand for both our individual and economic rights.•
__________
Boneham is the Libertarian Party candidate for governor. Send comments on this column to [email protected].
Editor's note: Republican gubernatorial candidate Mike Pence declined an invitation to address the question.
Please enable JavaScript to view this content.