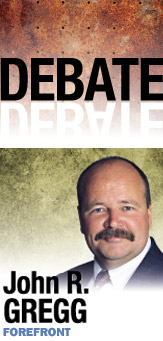 Question: What are some of the specific things you would do as governor to improve the economy and increase the incomes of Hoosier workers?

Answer: Indiana has fared relatively well during the national recession, and Gov. Daniels has taken steps to improve Indiana's business climate. But as much progress as we may have made, it means little if the lives of Hoosier families are declining.

According to the Indiana University Public Policy Institute, Indiana:

• Has the lowest per capita income in the Midwest and is only 85 percent of the national average, which is down over the last decade;

• Lost more than 200,000 jobs from 2000 to 2010, while our population increased by 350,000; and

• Unemployment doubled from 2005 to 2010.

What's more, too many Indiana students lag in learning the skills they need to compete in a global economy. Thousands of kids aren't ready to learn when they show up to kindergarten. Too many workers are stuck in jobs and technology that has moved on without them.

These are troubling statistics and trends for anyone who calls Indiana home. That's why any second we aren't talking about creating jobs and transforming education is a second wasted.

I've spent most of my professional life in the business community, but it was my time as president of Vincennes University that confirmed for me the key to this discussion: a modern, well-trained and competitive work force. An untrained work force is as big a threat to our economy as any.

I served as speaker of the Indiana House of Representatives when we passed two of the most significant education reforms in state history: the first charter schools bill and Indiana's landmark accountability system. We brought together every perspective and opinion imaginable, but still got the job done. As governor, I won't rest until we do it again.

Indiana finally must get off the dime on early education. The earlier a student begins learning, the better they do in just about every aspect of life. Yet, Indiana takes a back seat to nearly every other state when it comes to pre-school, full-day kindergarten and other early education options. Those days must end.

It's also time to give every teacher the flexibility to innovate, just like Indiana allows charter and magnet schools to do. Simply put, teachers know best what works in their classroom. Yet bureaucrats in Indianapolis and Washington, D.C., give teachers a "one-size-fits-all" cookie cutter and expect results. Let's cut out the bureaucracy, get out of the way and let the good teachers teach.

We must have a new commitment to lifelong learning. Whether it's a four-year or two-year degree, a certificate or a union trade, we have to do everything possible to make lifelong learning an affordable option for people who want it and need it.

We also need to do a better job connecting the academics in Indiana schools with the needs of the businesses in their region and the demands of the modern economy.

Outside the classroom, we must ensure that Indiana companies are afforded every advantage in overseas trade agreements. Free trade does not mean unfair trade, and the days of selling out homegrown companies in the name of free trade must end.
We must bring high-speed Internet to every part of Indiana. Most in central Indiana would be surprised to know that huge chunks of Indiana—including scores of schools, businesses and health care facilities—are still buffering while the rest of us have moved on to the next website. There is no way our students, workers and businesses can compete by working with 19th century technology.

Finally, Indiana must invest in the industry clusters and industries--life sciences, logistics, alternative energy, advanced manufacturing, agribusiness and others--that will produce jobs not only in the next five years, but also for the next 25 years. With these and other steps, Indiana will make strides toward raising the incomes and quality of life of all Hoosiers.•

__________

Gregg, a former speaker of the Indiana House of Representatives, is the Democratic candidate for governor. Send comments on this column to ibjedit@ibj.com.

Editor's note: Republican gubernatorial candidate Mike Pence declined an invitation to address the question.