One city's hometown favorite is another city's carpet-bagging chain. And so it goes with BoomBozz Pizza and Taphouse (2430 E. 146th St., Carmel, 843-2666), the Louisville staple that recently took its first steps into franchising with a branch in the former site of BD's Mongolian Grill at Cool Creek Commons.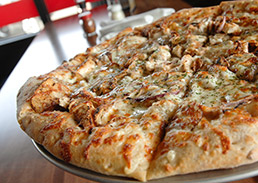 The Pollotate was declared the best pizza in Kentucky by Food Network magazine. (IBJ Photo/ Perry Reichanadter)
Does such an eatery deserve less attention than a wholly local newcomer? That's for purists to decide. For me, it comes down to what's on the metal disc that arrives at our table.

But first, some appetizers—because one of the benefits of BoomBozz is its slate of $5 Social Hour Bites, available between 3 p.m. and 6 p.m. and from 9 p.m. to closing Monday-Friday.

We should have passed on the Famous Asiago Cheese Stix (normally $6.99) since it's really just a funkily-sliced, gussied up pizza crust: good, but redundant if you are trying the pies (and why wouldn't you?). The Spinach & Artichoke Dip ($7.49) was both creamy and sturdy, served on warm, crispy bread. Cheese Fritters ($6.99) were softer and less stringy than most mozzarella sticks and the pepperjack in the mix gave the lightly fried balls a nice kick. A BoomBozz No. 1 salad ($8.99—not part of the Social Hour deal) piled sun-dried cranberries, goat cheese and candied walnuts on field greens and romaine lettuce.

Classic pizzas are available, but we raided the Famous Creations side of the menu ($7.99/$14.99/$17.99), starting with the Pollotate, which Food Network magazine picked as the top pie in Kentucky. (For the record, the pick for Indiana came from The Rolling Stonebaker truck in Beverly Shores.)

A slice of the Pollotate is a meal in itself, with chicken chunks, thinly sliced discs of roasted potatoes, red onion and a blend of asiago and mozzarella cheeses set atop a crunchy-but-airy crust brushed with rosemary-garlic olive oil. I haven't tasted enough Kentucky pizza to say it's the best in the state. But it was the best at our table.

BoomBozz allows for even its gourmet pies to be split in half, so we turned over the remaining hemisphere to the Fire Roasted Fajita, which didn't taste dramatically different despite bell peppers in place of the potatoes. A side of garlic sour cream is offered as an accent.

Our second split pie was devoted to vegetarian options. The D'Sienna featured fresh spinach with a tomato cream sauce, while the Pesto Roma delivered satisfaction in the form of a mix of Romano, feta, asiago and mozzarella.

Despite the lack of room in our stomachs, a friendly waitress and her trainee sold us on the pleasures of BoomBozz's signature—and only—dessert, One Hot Cookie ($4.99). It's a fresh-baked, biggie-sized chocolate chip cookie served with vanilla bean ice cream. It did not survive.•

–Lou Harry

__________

Third in a month-long series of reviews of Italian-themed restaurants.