State lawmakers finished their work in Indianapolis this month, but the end of the 2012 General Assembly signaled the beginning of crunch time for a full-time staff charged with sorting out what happened during the contentious short session.

Within weeks of the final gavel, the nearly 60 legislative assistants must research, compile and distribute to lawmakers a list of talking points on each bill that had a committee hearing. Last year, the memo totaled 361 pages.

And with hot-button issues like right-to-work and a statewide smoking ban dominating discussions at the Statehouse, they have plenty of work ahead. It's just part of the job.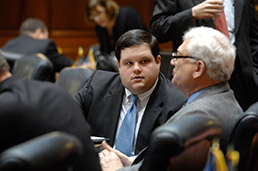 Senior legislative assistant Daniel Kelley, left, helps Rep. Ed Soliday keep up with what's happening in his northwest Indiana district. "You have a front-row seat on all the bills," Kelley says. "We get to know the issues really well." (IBJ Photo/ Perry Reichanadter)
Legislative assistants keep a low profile, but they play an important role in keeping the wheels of government turning. Each is responsible for knowing the ins and outs of pending legislation and making sure lawmakers know about their constituents' concerns.

"They're the unheralded champions of the legislative process," said House Speaker Brian Bosma, an Indianapolis Republican.

Brittany Campbell, a senior legislative assistant for the House Republican caucus, just finished her fifth session. Weeks ago, on the last day for bills to get second readings, she was busy relaying last-minute taxpayer input to the four representatives she supports.

Campbell, 26, arrives at the Statehouse's cramped House Republican quarters each day at 8:30 a.m. It's lively and fast-paced on the fourth-floor, her desk barely visible through the crowd of interns still learning the legislative process.

After reading e-mails from constituents and taking a quick look at the day's schedule, she heads down the narrow staircase to the House floor, peeking into the noisy room filled with 100 loudly chattering suits.

She knows exactly where to look in the sea of dark-wood desks for one of her four members. Within seconds, she spots Rep. Richard Dodge of northeast Indiana near the middle of the room and walks over.

"Good morning, Representative Dodge," Campbell says brightly. She's been working with Dodge for four years.

They talk each day when the Legislature is in session and several times per week during the recess. He also came to Campbell's wedding. This year, he's retiring.

"It's really sad," Campbell said. She recently helped write a resolution to honor his accomplishments.

Campbell quickly briefs Dodge on a touchy education bill, Senate Bill 384, which would add more requirements for home-schooling parents. She has received about a dozen e-mails and phone calls from people in his district who oppose it.

"What's their big concern?" he asks.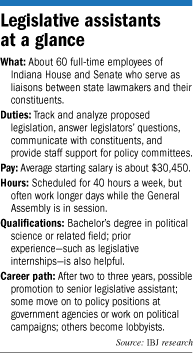 She glances down at her notes and tells him more about opposition to the bill, which ended up in a conference committee.

Campbell finishes the complaint list as Dodge digests it. "Just so you know," she says. He nods.

They exchange pleasantries before session starts. It's going to be a long day. Session, which got pushed back to a 10:30 a.m. start, is already running about five minutes late, and will probably last until 6 or 7 p.m.

"So, you're saying I shouldn't make plans tonight, right?" Dodge asks her.

That's right. Campbell will stay until her representatives are finished with the day, too.

"It gets more interesting the later you're here," she says.

Around noon, the legislative assistants get a wave of phone calls and e-mails from the public, which Trent Glass attributes to the latest local television news broadcast.

Glass, 28, another senior legislative assistant for the caucus, prepares for constituent questions by following a simple rule: "Know your member," he said.

He handles the constituent services for Reps. Wes Culver of northern Indiana, and Tom Knollman and Jud McMillin of southeast Indiana. Glass says taking time to learn his members' values, experiences and philosophies, helps him effectively communicate with residents.

As he waits for another call, Glass methodically sorts a large pile of mail. Today's pile contains five local newspapers, a letter from a constituent and an invitation to a speaking engagement.

Glass reads each page of the Goshen News and makes note of anything that would be of particular interest to Rep. Culver, who represents that area. Reading the paper is a good way to learn about the issues in the district about three hours away.

"It's good to know the tone the papers are taking on something," Glass says.

While Glass is reading, audio from the House floor drones from an intercom overhead. He tunes in and out throughout the day, depending on the bill being discussed.

After folding up the last newspaper, he reads a hand-written letter from a constituent complaining about the quality of State Road 62. Glass has heard about this problem before and makes a note to follow up.

"Most people appreciate a phone call to make sure they know we're taking the issue seriously," he says.

Some issues are more contentious than others.

Senior legislative assistant Daniel Kelley, 27, describes his job as a giant game of telephone, where he is responsible for setting the record straight for constituents who get up in arms about a bill passing through the Legislature. Often, they don't have all the facts right.

That's not fun, but he likes being exposed to the legislation.

"You have a front-row seat to all of the bills," Kelley said. "We get to know the issues really well."

In the early afternoon, Kelley leaves his desk to find Rep. Ed Soliday of northwest Indiana, who wants more information about a proposal he's sponsoring to limit the number of charity license plates authorized by the state.

Soliday wants to know how many organizations already have special plates.

"I get to go break the news to him," Kelley says. He sees the license plate issue as a talker. "It is very significant to many different people."

Both houses approved the motor vehicle bill, which included a moratorium on issuing new specialty plates until July 15, 2013. In the meantime, an interim study committee will continue to discuss the issue.

While few bills stay alive through the end of the session, most of the contentious ones seem to reappear in one form or another year after year.

Campbell has listened to lawmakers and constituents discuss the merits and flaws of the statewide smoking ban since she started her post in 2007, for example. "The testimony is always the same," she says.

The ban passed this year, but debate over its exemptions likely will continue.

And since Campbell serves as support staff on the public health committee, she could be hearing about it all summer.•