Deb Turner has owned six houses over the years and she'd probably own one now if it weren't for all the hassles.
Turner happily pays $400 more per month than her most recent mortgage payment to live at Cosmopolitan on the Canal, just a short walk from her office at the NCAA.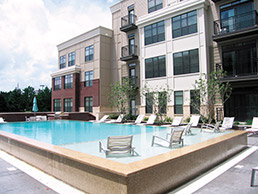 Cosmopolitan on the Canal amenities including an infinity-edged saltwater pool. (Photo courtesy of Flaherty & Collins Properties)
She's one of a growing number of renters by choice who fall outside the traditional apartment demographics, in terms of both age and household income. All the newly minted renters are one reason apartment developers today are building units that resemble upscale condos.
The Cosmopolitan, for instance, offers kitchens with granite countertops and stainless appliances, a 24-hour fitness facility and aqua lounge with tanning beds, and an infinity-edge saltwater swimming pool. The Residences at Carmel City Center adds in floor plans as large as 3,000 square feet, private personal training rooms with trainers, professionally designed closets with organizers, and concierge services. New apartment communities elsewhere in Hamilton County and Zionsville aren't far behind.
"I thought I'd try out apartment living downtown before I got a condo," explained Turner, 58, who is single with two adult children. "Now I don't want to buy anything. I'm very happy with the position I'm in, just enjoying the downtown living."
Her one-bedroom Cosmopolitan apartment costs her about $1,300 per month, along with about $95 for parking, $30 for water and trash removal, and $60 for electricity.
Turner's unit is on the third floor, with a large patio facing a community courtyard complete with a fire pit. The kitchen is larger and nicer than in the homes she's owned over the years in Carmel and Indianapolis.
It took her two years to sell her last house, at Eagle Creek, and she just broke even on the price. Might as well rent if you aren't building equity anyway, she figures.
"I fill up my gas tank once every two or three weeks," she said. "I walk downtown to eat and can grab a cab back for $5. I have season tickets to Colts games and don't have to worry about parking. I went downtown with friends for every night during the Super Bowl events."
More people like Turner are making similar calculations.
About 25 percent of the renters in locally based J.C. Hart Co.'s newest communities, including its Legacy Towns & Flats along 146th Street in Carmel and The District at Saxony, are baby boomers opting to sell their homes and rent instead, said John C. Hart Jr., the company's president.
"I don't think the dream of homeownership is forgotten or lost," Hart said. "People just know right now that buying a home is not the safe investment they might have perceived it was a few years ago."
A few years ago, about 90 percent of Hart's residents fell within the ages of 24 to 32. That cohort has shrunk to 60 percent to 70 percent.
The shift has design implications: Hart is including as many direct-access garages as possible and building more town-home-style units. First-floor units always rent fast.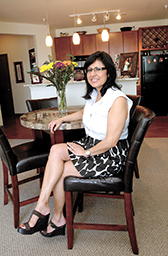 Roni Vela (IBJ Photo/ Perry Reichanadter)
The company also is adding luxury, country-club touches to its apartment communities, including higher ceilings, recreation rooms that are iPod-compatible, and even indoor basketball courts.
The market is responding. A second phase of Hart's The Waverley Apartments at East and Georgia streets, finished in October, is on track to rent up by mid- to late spring. The community sits just a few blocks from the new luxury apartments under construction at CityWay, by local developer Buckingham Cos.
"Everybody recognizes the need for our apartments to live and feel like condos or single-family homes," Hart said. "The people we are seeing in rental housing, at least for the price point we serve, are people who are choosing to rent as a lifestyle choice."
Changing demographics are boosting demand for new apartments: Married couples with children, who tend to buy suburban single-family homes, now make up less than 21 percent of households. About 70 percent of households are childless.
Meanwhile, almost 80 million so-called echo boomers will be looking for places to live at the same time a similar number of baby boomers are looking to downsize.
The National Apartment Association and the National Multi Housing Council expect renters will make up half of the new households this decade, numbering more than 7 million. Currently, renters make up a little more than one-third of the housing market.
Of course, not all the apartments will have all the bells and whistles found in the Cosmopolitan and at Carmel's City Center. Affordable projects are sprouting up, particularly near downtown. But it's the high-end projects that seem to be driving most new development.
The housing bust managed to wash away any remaining stigma to renting. Also mostly gone are the NIMBY complaints favoring low-quality single-family homes over any sort of apartments, noted George Tikijian, a principal in the Indianapolis-based apartment brokerage Tikijian Associates.
The definition of an upscale apartment has changed dramatically over the years, he said. In the 1980s, upscale apartments had stackable washer/dryers. In the 1990s, they had 9-foot ceilings and clubhouses. Now they have granite countertops, stainless appliances and hard-surface floors.
It's simply a market responding to demand, said Lynne Sullivan, executive director at the Indiana Apartment Association.
"We're seeing a lot more renters by choice, which is something we've never seen before," said Sullivan, who has helmed the group for 12 years. "We're not seeing as many people who come in wanting to rent for a year or two, then buy a house. So we're making it feel more like their home, but they don't have all the other problems like maintenance and upkeep."
Renters by choice may be influencing apartment development trends, but they remain a small minority overall. The housing bust dragged scores of former homeowners through foreclosures and short sales, and their credit scores leave them little choice but to rent.
But even many of those with poor credit are trying to buy a house again, said Chris Watkins, an agent at Greenwood-based Mike Watkins Real Estate Group. The top-performing, south-side-focused brokerage closed on 16 houses in February and had booked nine pending sales in the first week of March.
Watkins said production vinyl homes are readily available, but older, well-built homes are scarce, meaning buyers have to get aggressive.
"With the rates so low, it's still cheaper to buy a house than rent," Watkins said.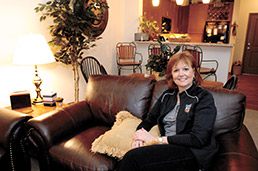 Deb Turner (IBJ Photo/ Perry Reichanadter)
Worth noting: There aren't many high-end apartment communities on the south side.
Another reason some people are renting is they can't sell their homes.
Roni Vela and her husband, Rick, are renting a two-bedroom unit on the fifth floor of the Cosmopolitan.
The couple probably would have bought a home when work led them to Indianapolis two years ago, if they didn't already own two houses in Texas. They've rented out one and are struggling to sell the other: a 5,000-square-foot custom home on 3.5 acres in a gated community outside Austin.
He works for the wine and spirits importer Moet Hennessy USA, and she works for Southern Wine & Spirits. They don't want to get caught with unsold homes in two states if he gets transferred again.
"We know we're not going to buy in Indy," said Roni Vela, 50. "Neither of us wants the burden of another home."
Their first apartment in central Indiana, at a community in Carmel, felt too much like suburbia; the Formica countertops and linoleum floors didn't make it any easier. They feel much more at home with their condo-like apartment at the Cosmopolitan, which offers a view of the Statehouse and Lucas Oil Stadium.
They pay $1,735 per month, up about $50 from last year, and another roughly $200 for two parking spaces.
"Even though it's by necessity we live there, we love living there," Vela said. "We couldn't imagine living anywhere else. We can walk to everything, enjoy the restaurants and canal."•
Please enable JavaScript to view this content.