This Victorian-era house, which is for sale for $299,000, is considered among the most uniquely designed residences in Woodruff Place.
The home, 756 Middle Drive, is one of few in the neighborhood northeast of downtown made of concrete blocks formed to look like bricks, according to the Historic Area Preservation Plan for the neighborhood filed with the city's historic preservation commission.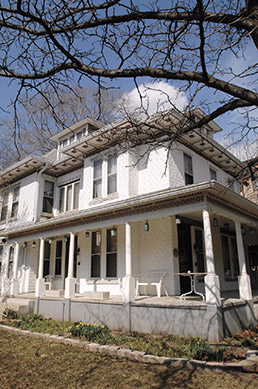 (IBJ Photo/ Perry Reichanadter)
Built in 1885 by paving and sewer contractor John Bates, the home is classified in the Free Classic subset of Queen Anne style by Indiana Landmarks. The style is based on classical features applied to asymmetrical massing, and the house features a dormer window and classic porch columns. An oriental uplift to the roof cornices gives the house an exotic appearance, the commission says.
The neighborhood was developed as an exclusive suburb by James O. Woodruff in 1872, but the Panic of 1873 ruined him. The neighborhood boomed nevertheless and eventually was incorporated as a subdivision.
Woodruff Place began a long decline after World War I as the city, along with the noise and soot of the nearby Mile Square, grew up around the area and residents moved out. The Great Depression curtailed the number of people who could afford the homes and many eventually were partitioned as apartments before renewal began in the 1960s and 1970s.•
– IBJ staff
Please enable JavaScript to view this content.