An idea being kicked around the halls of IUPUI would split off the schools of medicine, nursing, dentistry, optometry, health sciences and social work into a separate administrative unit, based in Indianapolis.
Such a move might make it easier for Indiana University educators and researchers across those fields—and across several IU campuses—to work together. And it might even save money.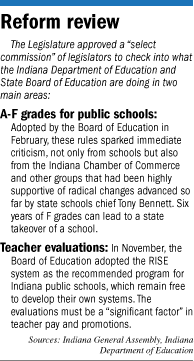 Or so it's hoped. But many IUPUI professors worry that splitting off the health-related schools would actually cost more money and hinder productive collaborations, leading them so far to oppose the move.
"There would be greater potential for collaboration in education and in research than if they're not clustered," said Dr. Craig Brater, dean of the IU School of Medicine.
The idea for a health sciences campus emerged in 2011 as part of a New Academic Directions committee, headed up by IUPUI Chancellor Charles Bantz, which was charged by IU President Michael McRobbie with reviewing IU's current structures to make sure they are as effective and efficient as they can possibly be.
Now the University Clinical Affairs Cabinet—made up of the deans of medicine, nursing, optometry, dentistry and health sciences—is spearheading a vetting of the idea, via surveys, consultations with other universities with health sciences campuses, and economic analysis.
Though not everyone likes the idea of a health sciences campus, nearly everyone at IUPUI agrees that saving money and enhancing collaboration are worthy goals.
Both outcomes would be good at a time when the traditional sources of revenue for universities—state governments and students' families—are tapped out. Also, the federal government and other funders have increasingly favored research projects that translate research breakthroughs into applicable technology and know-how—something that almost always requires collaborations across multiple academic fields.
The trend has been so strong, noted Diane Viacava, a university credit analyst at New York-based Moody's Investors Service, that entire universities are collaborating to win research funding.
"We've seen consortia formed of universities, focusing on a particular topic, where one might be a lead university," she said.
An IU health sciences campus would resemble similar arrangements at the University of Colorado, the University of Maryland and the University of Oregon, among others.
Physically, the health sciences unit would be a "campus" in name only. It would administratively tie together health-related instruction and research that takes place now in Bloomington, Gary, Indianapolis, Kokomo, New Albany, Richmond and South Bend without any relocations.
While outsiders often perceive IU as a monolithic whole, each local campus has significant autonomy, with students and money typically assigned to only one campus.
A health sciences campus might break down some of those barriers between the far-flung IU campuses for students and dollars devoted to health fields. But at IUPUI, where the health and non-health functions are right across the street from each other, splitting them into two distinct campuses might raise a significantly higher barrier to communication and interaction.
If it had existed last year, the IU health sciences "campus" would have claimed $662 million in revenue, not counting auxiliary enterprises such as dining facilities and bookstores. That would have made it the second-largest campus in the IU system, behind the flagship Bloomington campus.
At IUPUI, about 60 percent of the revenue that currently comes into the campus would be split off into the new health sciences unit. The major programs that would remain under the IUPUI umbrella would be art, business, engineering, informatics, journalism, law, liberal arts, public and environmental affairs, science, and tourism management.
Eric Wright, head of the Department of Public Health in the IU School of Medicine, said IUPUI has already made health and life sciences such a focus that it's difficult to see how establishing health sciences as a separate unit would emphasize it appreciably more.
"We've defined ourselves that way. We thought we were moving in that direction, anyway," Wright said.
Simon Atkinson, a biology professor in the IUPUI School of Science, worries that if his school is split off from the health schools, it might lead to unhealthy competition for undergraduate students' credit hours—for instance, if the medical school started offering its own biology courses so as not to see the revenue go somewhere else.
Also, Atkinson added, the non-health parts of IUPUI greatly benefit from being on the same campus as the health-related schools.
"Many of our best students come here because of the connection with the health schools. I think many of our best faculty come here because of the health schools," said Atkinson. "So it's a huge recruiting benefit for us all around."
Not to mention the fact that there is significant research collaboration between the health schools and the IUPUI schools of science and engineering. Putting a new split between those schools would hurt, rather than help, IUPUI's research output, noted a 2011 report by the IUPUI faculty's research affairs committee, which Atkinson currently chairs, that was sent to IU President Michael McRobbie.
Joan Kowolik, a dentistry professor at IUPUI, worries that creating a separate administrative unit would require more administration, therefore more expense.
"There would have to be a vice chancellor or a vice president, which would include that huge array of staff," she said. "At the moment, there are just too many questions."
Brater, the medical school dean, concedes the possibility of a health sciences campus' adding costs, not reducing them. That's why the clinical affairs group is conducting a financial analysis of the health sciences campus, to determine whether it would save money.
Such a determination was cited as critical in a faculty survey IUPUI conducted in November about the health sciences campus. And it's especially important since the Legislature's funding of universities, while growing, has not kept pace with inflation the past two decades.
"The next piece of the data we need is the financial analysis," Brater said. "That would then help us formulate the next set of questions."•
Please enable JavaScript to view this content.