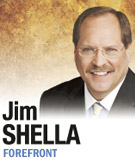 Remember the now-famous call Mitch Daniels made a couple of years ago for a "truce" on social issues? I thought of that the other day when, in a five-day period, Daniels was asked what should be done to limit specialty license plates (a question prompted by the effort to eliminate a specialty plate for the Indiana Youth Group) and responded by saying, "I don't know, and I don't care."
That was on a Monday. On that Friday, the BMV, under pressure from state Senate Republicans, canceled the IYG's license plate contract.
In fairness to the governor, he followed up his "I don't care" remark by saying the decision should be left up to the BMV, but don't the folks there still report to him?
The governor originally called for the "truce" at a national level because he feels leaders have bigger issues (the deficit and government spending in particular) to be concerned with. And, when the General Assembly took on Planned Parenthood funding, abortion restrictions and other social matters in 2010, Daniels said it was OK because the Indiana fiscal house was in order.
And maybe this isn't about Daniels at all.
It is about the growing conservative influence in the General Assembly. That's good if you're a conservative, bad if you're not. But it doesn't take a social scientist to figure out this state has taken a sharp turn to the right since the 2010 election. The shift is the result not of that one election, however, but rather of increasing numbers of conservatives arriving at the Statehouse over more than a decade.
Senate GOP leader David Long is a moderate who follows in the footsteps of a long line of moderate leaders. (It may be worth noting that Long succeeded Bob Garton, who lost a GOP primary to conservative Greg Walker in 2006.)
Long knows that, in order to keep his leadership post, he has to give in to a number of conservative demands. And so, we suddenly saw Long leading the battle against the Indiana Youth Group, a long-standing organization that seeks to counsel young people who are homosexual.
Critics say the license plate battle is a clear case of homophobia, supporters say it's merely an effort to keep the state stamp (it does say "Indiana" on every license plate) off sexual advice that may be given to young people under the age of consent.
No matter how you view it, know that the IYG license plate first became a cause for the group known as Advance America, led by conservative Eric Miller, the same guy Daniels defeated in the 2004 GOP primary. Miller needs issues like this one to spur fundraising for his organization, and Advance America is active in political races around the state in an effort to grow the conservative caucus in the Senate, as well as in the House.
That's right, let's not leave the House out of this. Speaker Brian Bosma got a lot of notice when he made light of the criticism leveled at the Girl Scouts by one of his members, Rep. Bob Morris, R-Fort Wayne. Morris called them a "radicalized organization" and suggested that, besides selling cookies, they support abortion and accept homosexuality. That led Bosma to distribute cookies in his office and on the floor of the House. He wore a Girl Scout sash when he appeared on stage at the Indiana Gridiron Dinner.
Before the episode was over, though, Bosma learned that other members of his caucus agreed with Morris. They were willing to vote against a proposed license plate for the Girl Scouts, a vote that was then avoided.
There is no truce at the Statehouse.•
__________
Shella is WISH-TV Channel 8's political reporter as well as host and producer of the Emmy-nominated "Indiana Week in Review." Send comments on this column to ibjedit@ibj.com.
Please enable JavaScript to view this content.