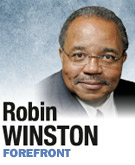 Political campaign management is truly a science. It involves the use of survey information, voter demographics and studies in how certain ideals and ideas affect voters, and a true understanding of statistics. For those of us involved in government relations and political campaign management, each election cycle requires a review of the propensity of voters to support particular candidates and/or particular parties.
During my term as chairman of the Indiana Democratic Party (1999-2001) and in subsequent campaigns, I have witnessed how individual candidates can gain the support of voters based upon their sheer personalities and voter perceptions (Frank O'Bannon in 1996 and 2000, Julia Carson in 1996 and 2002, Barack Obama in 2008). These candidates won because voters genuinely liked them and because they were inclusive of divergent and diverse interests.
Sometimes, ideas and ideals trump candidates. We have witnessed voters' upset by the direction of the country elect scores of Indiana Democrats in 2006, spiraling property taxes defeat then-incumbent Bart Peterson in 2007, and Republicans win control of the Indiana House via a tidal wave of change in 2010.
Look for a similar phenomenon in 2012. This time, women voters will play a key role in Democratic victories from the White House to the Statehouse and the courthouse. Composed of almost 54 percent of the participating electorate in Indiana and an even higher number of African-American voters, women voters have seen a Republican Party and its allies consistently spurn issues that historically resonate with female voters.
Just think about the following:
• A Republican member of the General Assembly refused to sign a resolution recognizing the Girl Scouts' 100th anniversary. He stated that the Girl Scouts were "a radical organization that promotes abortions and homosexuality."
Really? My daughter is active in her troop and, as a former Cookie Dad, I don't remember ever seeing anything that promoted abortion and/or homosexuality. What I have seen is an organization that is composed of thousands of girls and young women here in Indiana that produces future business and political leaders. In fact, the Central Indiana Girl Scout Council has affiliates in 45 counties.
• Rush Limbaugh—who needs no introduction, is carried by 12 major radio stations in Indiana, and has used his media platform to support right-to-work and other Republican initiative—continues this trend against women voters. Unless you have been in a cave, you know that Limbaugh called a law student a "slut" and "prostitute" on-air after she was denied the opportunity to testify before a congressional panel in support of insurers covering the cost of contraception.
The relevance to Indiana politics? I have not seen a resolution passed by any members of the leadership of the Republican Party repudiating Limbaugh's remarks.
• It took actions by the U.S. Department of Health and Human Services Department to scale back Indiana's efforts to defund Planned Parenthood. In fact, federal officials stated that Indiana's actions were illegal and that House Bill 1210 violated federal law.
Planned Parenthood's health centers offer thousands of Hoosier women access to affordable and vital preventive health care and treatment, including routine gynecological care. The organization's efforts are important in preventing illness and discomfort and help in early detection of cancers of the breast and cervix.
With a national presidential campaign on the horizon for our state, this matters. Why? Earlier this month, Mitt Romney vowed to "get rid" of Planned Parenthood.
Women voters are far from wedded to any particular party or any particular candidate. However, when one party overtly swings the pendulum against the issues that matter to many women voters, look for Democrats to benefit in 2012.
Our party has a track record on equal pay for women, access to voting, protection of access for women's health services and, yes … the Girl Scouts.
Just ask yourself, would your business consistently do things to alienate 54 percent of its customers? For that reason, look for women voters to make the difference in Indiana in 2012.•
__________
Winston is president of Winston/Terrell Group, an Indianapolis-based government affairs, public outreach and community relations firm. He was chairman of the Indiana Democratic Party from 1999-2001. Send comments on this column to ibjedit@ibj.com.
Please enable JavaScript to view this content.