Todd Piltz never aspired to work in a factory like his grandfather, but that is what he's training to do, after all.

He enjoys computers as well as getting his hands dirty, so he enrolled in Ivy Tech Community College's two-year degree program for advanced manufacturing. Now the 25-year-old can talk a little shop with his grandfather, who spent 30 years at Allison Transmission. He sees more opportunity in manufacturing than in child care, where he worked the past several years, or in welding, which he learned after graduating from North Central High School but dropped after seeing his father lose his job in the field.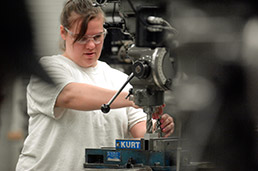 Ivy Tech Community College student Andrienna Butcher learns to use a vertical mill. Ivy Tech has only 260 advanced manufacturing students statewide.(IBJ Photo/ Perry Reichanadter)
"That sounds better than a dying field," Piltz said of the path he chose last fall.

Does Piltz wear rose-colored safety glasses? Anyone aware of the decades-long decline in manufacturing jobs would think so, but employers and Ivy Tech administrators say the opportunities for skilled workers are real.

Not many young people are going into the field—there are just 260 students enrolled in advanced manufacturing statewide—and skilled tradesmen will be retiring in large numbers, said Vearl Turnpaugh, Ivy Tech's assistant vice president of career and technical programs. "So we've got this drain on both sides."

Now that they're hiring again, manufacturers complain they can't fill certain positions. That's despite shedding 119,100 jobs, or 22 percent of the manufacturing payroll in Indiana, during the recession and adding back just 49,200 jobs since the low point in June 2009.

"They're hampered a bit by both the skill shortage and the concern [among workers] that manufacturing is not the bright future we think it is," Ivy Tech President Tom Snyder said.

Snyder guesses that at least 2 percent of the state's unemployment rate (8.7 percent in January) is the result of skill mismatches. In other words, even people with experience don't have the right skills for the jobs that are open.

The skills shortage makes more sense considering the types of jobs that were eliminated, said Timothy Slaper, director of economic analysis at the Indiana Business Research Center in Indiana University's Kelley School of Business. Assembly positions accounted for about 22 percent of all the jobs cut by Indiana auto plants from 2006 to 2009, Slaper found.

Some economists have compared complexity of auto assembly jobs to putting together a hamburger at a fast food chain, Slaper said. Many of the current openings are in programming and operating computerized machine tools, which are modern versions of metal-working tools like mills and lathes.
Osborn International, which makes specialty ball bearings in Richmond, used Ivy Tech's Corporate College to train seven employees in-house on computer numerical controls, or CNC, last fall. Human Resources Manager Bruce Richardson had to fill another four CNC-programmer slots off the street. He ferreted out those people through word of mouth.

"It's very tough," Richardson said. "Most good CNC people are working."

Local employers including Peerless Pump and precision-machining firms Mitchel & Scott and Standard Locknut are recruiting people out of Ivy Tech's new fast-track certification in machine tools, said Dan Flick, chairman of the program.

Half the 30 openings at Peerless Pump are on the shop floor, President Andrew Warrington said. He turned to Ivy Tech after holding a job fair last September that attracted 350 people but netted only 15 hires.

Peerless, just northwest of downtown, makes pumps for public works and construction projects around the world. It's a low-volume business, so people have to learn a variety of tasks. Some of the ex-automotive workers at the job fair weren't prepared for that, Warrington said.

Others turned down job offers because the pay, which starts around $15 per hour, didn't match what they'd come to expect from automotive plants. Still other candidates were turned away because they lacked a track record of showing up for work, or they couldn't read a tape measure.

Warrington said Peerless could be growing faster. "One of the throttles we've got is getting the right people in here to do the work."

Tweaking the pipeline

Pulling people into training is difficult, so Ivy Tech adds more channels in the hope of offering the right fit.

The degree in advanced manufacturing, which debuted in 2007, was in response to industry demand for people who know how to troubleshoot and fix automated assembly lines and robotics.

Ivy Tech continued to offer its legacy program, industrial technology, which attracts far more students—1,800 currently, Turnpaugh said—though the new degree promises to result in higher-paying jobs.

Perhaps advanced manufacturing enrollment lags because it's a more difficult course—students are thrown right into troubleshooting, Turnpaugh said.

"A lot of people would tell you it's because it's got 'manufacturing' in the title, too," he added.

Snyder, a former CEO of auto-parts maker Delco Remy International, agrees that the word "manufacturing" conjures the wrong image. People think of the automotive industry that so dominates Indiana, while forgetting that it includes orthopedics and pharmaceuticals, he said.

He's considering whether to change the name of the degree to "automation technology," which he said is more descriptive of the course work.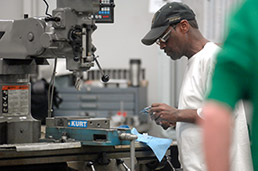 Jon Garner, an Ivy Tech advanced manufacturing student, will quite possibly enter a job market crying for employees who can troubleshoot complex equipment.(IBJ Photo/ Perry Reichanadter)
Last year, the college introduced the Ivy Institute of Technology, a 30-week version of certificate programs in machine tools, welding and "mechatronics," which is the combination of robotics and computerized machine tools.

While the associate's degree targeted high school graduates, the institute is aimed at adults with work experience, spokesman Jeff Fanter said.

"The traditional high school graduate moving on to college isn't going to fill the gaps," Fanter said. "It's going to have to be the adults."

Institutes are also offered in welding and heating, ventilation and air-conditioning, two more industries where Ivy Tech sees jobs in high demand. Once again, the manufacturing-oriented class attracted relatively few students. Seven of the 74 students enrolled in all programs statewide were in the inaugural machine-tool class in Indianapolis.

James Hoyle, a 37-year-old from Brownsburg, found the institute after getting a nudge from friends who work as machinists at Rolls-Royce Corp. The jet-engine maker pays its local union-represented employees an average $27.25 per hour.

Although he supervised a nine-person team in his last job at an inventory-control company, Hoyle said he had trouble finding anything that would pay at least $16 an hour. He was considering a number of career paths, but Flick's slide show on the future demand for skilled labor sealed the deal.

"It kind of fascinated me," Hoyle said. "This may be a prosperous situation for me and my family."

Growing specialization

Ivy Tech likely spent $20 million over the past five years on new programs for manufacturing. In addition to one- and two-year degrees, the college offers a nationally recognized set of skills certificates, which can stand alone or count toward future college credit.

Ivy Tech's spending includes grants from the Labor Department and other sources, plus the value of time spent by college staff and industry advisers.

"The truth is, if you spent 10 times that, you would still have some employers in Indiana saying, 'I can't find the right people,'" said Dan Black, a labor economist and professor at the University of Chicago's Harris Graduate School of Public Policy Studies.

That's because the skills manufacturers need tend to be highly specialized, and the job growth behind those skills is small, Black said. Compared with an exploding field like information technology, there's not much incentive for workers to constantly prove themselves by obtaining certificates, he said.

Black thinks, at some point, the specialized training won't be cost-effective for high schools and colleges, so firms will have to develop in-house systems.

The fruitless job fair that Peerless Pump held last fall made Warrington determined to develop his own pipeline of skilled labor. The company plans to recruit students from the IndyMet charter high school and allow them to work part time while attending Ivy Tech's 30-week institute.

Peerless offers tuition reimbursement, which Warrington hopes will attract bright students who can't afford four years of college.

"I've spent my life in manufacturing. There's so much variety," Warrington said. "We've done a terrible job as manufacturers in promoting that."•