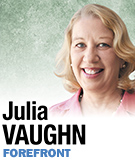 Like all longtime Indiana University basketball fans, I've enjoyed the resurgence of the Hoosiers this season and give credit to Coach Tom Crean for his outstanding leadership in guiding the team out of the Big Ten cellar and back to where it belongs in the NCAA tournament. Crean took over a program that was not only in disarray, it had been disgraced by its former leader and was in dire need of a complete makeover in the image department.

Sounds a lot like the big job ahead for newly appointed Secretary of State Connie Lawson, who inherits an office that has suffered a tremendous blow to its credibility because of Charlie White's refusal to resign from office when charged with vote fraud and other crimes.

Now that White has been convicted and the Indiana Supreme Court has ruled on the succession question, it's time for the new guardian of the state seal and our chief election officer to restore integrity to this important state office.

That part should be easy for Lawson. She's been in government a long time and I have yet to hear anybody question her honesty and commitment to public service. In the Senate, she had the reputation as a hard worker who was willing to listen to all points of view in order to build consensus. Gov. Daniels made a great choice when he chose her to fill out the term.

But Lawson has more than just the image problem to work on. As Indiana's point guard for elections, she must lead the state's effort to confront our dismal state rankings for voter registration and voter turnout; Indiana ranks 43rd and 48th, respectively, among all states in those important measures of civic participation and we need state-level action to improve our scores.

Another critical issue is the sad state of our voter registration list, which is plagued with errors and inaccuracies—so much so that in some counties, including Marion, there are more registered voters on the rolls than eligible voters in the county. According to a recent report from the Pew Center for the States, approximately one in eight voter registrations in the United States is no longer valid or is significantly inaccurate. This not only wastes taxpayer dollars, it undermines voter confidence and fuels partisan disputes over election integrity.

While it is important to get the lists cleaned up, the answer is not indiscriminate purging of inactive voters, which puts too many voters at risk and ignites partisan feuds. The secretary of state should lead a statewide public education effort to remind people to update their voter registration when they change address (the U.S. Postal Service and Indiana Bureau of Motor Vehicles would be natural partners for this effort).

In addition, the Pew report encourages states to approach this problem with tools routinely used in the private sector, like comparing registration lists with other data sources to broaden the base of information that can be used to update and verify the rolls, using proven data-matching techniques and security protocols to ensure accuracy and security, and providing more ways to register and update information online to reduce errors and the cost of data entry that's inherent with a paper-based system.

While using these techniques will require a sizable initial investment of resources, the long-term savings will be significant. Next year, Lawson should ask her fellow Republicans who are firmly in control of the state budget to allocate funds to use technology and education to get this fundamental problem under control.

We also need a full-court press from the Secretary of State's Office to push for election and redistricting reform. What we don't need is someone who will use the office for partisan purposes or as a springboard to higher office.

Given how she came into the game, Lawson has a unique opportunity to change the face of her office. Instead of a not-so-neutral election referee, the secretary of state should reject her office's ultra-partisan recent history and embrace and promote practical reforms that benefit all voters.•

__________

Vaughn is policy director for Common Cause/Indiana, a nonpartisan citizens lobbying organization that works for open, honest and accountable government. Send comments on this column to ibjedit@ibj.com.