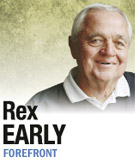 In a recent Forefront, John Krull said he detested our culture of attacking at every opportunity, especially in the political world. He lamented "taunting an opponent who has been bested out" and stated that "grace matters."
When Krull was writing a column for The Indianapolis Star, it was my opinion that he and Tom Keating were great writers, even though I didn't always agree with Krull's politics. In any event, Dan Burton has thrown in the towel. He is not running for Congress again, so Krull might say, "Why pound on him?"
Now I recognize that Burton and the Star editorial board have been feuding for several years. Based on the Star article about his decision not to run, someone needs to mention some of "the good things" Burton has done as he winds down his career.
A majority of the voters agree that he has voted right. After all, that's what we sent him there to do and that's why he won elections.
He is the consummate conservative and his American Conservative Union lifetime score is 96.97 percent. His conservative voting record is the main reason I have always voted for him. I don't really care how many times he played golf while he was in Congress as long as he voted for conservative values. (He hasn't played too much lately as his handicap has gone from four to 14 and the last time I played golf with him he played something like a 20.)
I have admired Burton because he is responsive to his constituents. If a constituent has a problem with a federal agency, they get a responsive staff and Burton himself. I have admired Burton's strong support of our military. In addition, Burton has always been available to our veterans who are having problems with the Veterans Administration or with the VA hospital.
I have admired Burton because he has always done the little things. Like when one of my friends wanted to get his father's World War II medals, which were lost, Burton got him the medals.
If your mother-in-law was having problems with her late husband's Social Security, Burton would help her. If your Medicare is screwed up, call on Burton. If your problem is with the EPA, Burton would see if the problem could be resolved. If you have an issue with the federal bureaucracy and you are a Burton constituent, you have an advocate. If you have a case, Burton would try to help.
Let me tell you about Burton and Sean Leahy. A few years ago, Sean was a Hamilton Southeastern High School student and a kid who cut the weeds on my riverbank. Upon graduation, he joined the Marines. A year ago in March, a San Diego newspaper ran a front-page story about Kilo Company, 3rd Battalion, 5th Marines, and its tour in Afghanistan.
The newspaper had embedded a reporter with Kilo Co. He wrote a great story. On the front page, there was a picture of Cpl. Sean Leahy, a 23-year-old squad leader. The company had been in a constant firefight from the Taliban just about every day for months. In the first five months, 50 of the 150 Marines had been killed or wounded. (Leahy became the squad leader after his former squad leader stepped on a bomb.) It was a story about just one group of our American heroes.
I sent the article to Burton. He read it on the House floor and the article became part of the Congressional Record. Now, did Burton have to do that? No. Did he do it because Sean's family was a supporter or a contributor? No.
Did he get any accolades? Yes. The accolades were knowing that there was a proud mother, brother and sister back in Indiana.
Burton has been my friend for 46 years and, unlike me, isn't perfect, but as a congressman, he has served us well.•
__________
Early served in the Indiana House and as a Republican state chairman, as well as on the Republican National Committee. Send comments on this column to [email protected].
Please enable JavaScript to view this content.