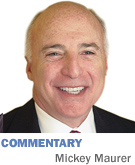 Did you take my advice on Emmis? If you've got the guts for another flyer, read on.

Last September, I touted Emmis Communications Corp. stock when it was trading around 65 cents a share. I cited CEO Jeff Smulyan's guarantee that the stock would trade at $1, the required bogie of the NASDAQ Exchange to prevent a delisting. I stated "even if share prices fall short of the dollar mark, the return still could be in double digits in less than six months." Well, the bet on Smulyan paid off. The stock is trading in the 90-cent range.

I've got a new idea—Endocyte Inc. Endocyte is an Indiana biopharmaceutical company developing targeted small-molecule drug conjugates and companion imaging diagnostics for personalized therapy. The company's discoveries actively target receptors that are over-expressed on disease cells. If you don't know what all that means, don't worry about it. Suffice it to say that the company is developing therapies to treat cancer.

Here is how that is supposed to work in words that I can understand: Cancer cells replicate wildly and, like neonatal cells, greedily consume the vitamin folate, a requirement for cell division. Some cancers, because they need so much folate, absorb it using receptors unique to those cancers.

Endocyte's chief science officer, Phillip S. Low, and his medical team theorized that if they targeted those receptors with folate that had been laced with cancer-fighting drugs many times more potent than tolerated under customary delivery systems—and administered those drugs more frequently over longer periods of time—they could knock out the cancer without poisoning normal cells.

I like their idea and so have many others. In 2001, when Endocyte was running low on cash and was in danger of closing its doors, the state of Indiana made two grants totaling about $4 million through its 21st Century Fund. Building on that assistance, the company persevered.

After raising $102 million in preliminary investment rounds, Endocyte went public in February 2011 at a price of $6. Within six months the stock shot to a peak north of $14 per share, creating a company valued at greater than $400 million. But by December of that year, the stock was trading at just over $3 a share.

Many shareholders were reacting to the perception that the drug failed to help ovarian cancer patients live longer in preliminary trials. Were the studies really a bust? The tests were designed in part to determine if the drug performed differently in patients with the targeted receptor, so patients without the receptor were also included. In fact, progression of the cancer was substantially delayed in those with an abundance of the receptor.

A new study improves on the design of initial tests by focusing on those patients selected by the companion imaging diagnostic as having the strongest receptor signal. This may prove that the Endocyte system can deliver potent cancer killing drugs in sufficient quantity and frequency to see an improved survival rate.

Endocyte will submit its ovarian cancer drug for European market approval in the third quarter after the European Commission granted it "orphan drug" status. The submission means Endocyte could have its first commercial product on the market as early as 2013. The European Commission also granted orphan status to the imaging agent Endocyte developed that lights up ovarian tumors in women that have that variation that makes them bond hungrily to folate. Therapy of this type does not need to effect complete cures in order for the drug to be considered in the "wonder" category.

It is evident that the Endocyte crew feels confident. In December 2011, while the stock was trading near its all-time low, this newspaper reported that company insiders including Lowe and Christopher P. Lemmon, vice president of research and development, purchased the stock.

I directed my retirement plan to purchase Endocyte. Our last purchase was at $5.38 a share. I am betting that this will be a $10 stock before the end of the year.•

__________

Maurer is a shareholder in IBJ Corp., which owns Indianapolis Business Journal. His column appears every other week. To comment on this column, send e-mail to mmaurer@ibj.com.