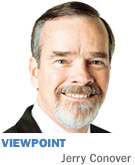 Given our state's proud manufacturing heritage, Hoosiers naturally wonder if we'll regain the many factory jobs that disappeared during and since the Great Recession. This question echoes throughout the nation, where 5.7 million manufacturing jobs disappeared over the last decade—a percentage decline greater than during the Great Depression.
At the same time, some argue that manufacturing is leading the recovery, that recent notable factory job growth means the sector's glory days will soon be back.
The reality is that, of the 2 million factory jobs lost during the recent recession, barely 8 percent have returned. At the current rate, it'll be eight more years before manufacturing employment is back to where it was in 2007.
Some argue that American manufacturing has simply become extremely productive, so fewer workers are needed to crank out a given quantity of widgets. While productivity enhancements certainly helped many firms improve their operations during the downturn, and they may not need as many production workers as they used to, the productivity story is not so simple.
An intriguing new report from the Information Technology and Innovation Foundation concludes that U.S. manufacturing job losses are not the inexorable result of productivity-driven restructuring (such as seen in American agriculture over the past century), but rather the result of ineffective U.S. policies.
The ITIF study finds that significant flaws in how the government measures manufacturing output led to substantial overstatement of productivity. American producers today rely much more than in the past on imports for the intermediate goods that are inputs to their own production.
This technical issue complicates estimation of the value added in the production process, making the productivity of American factories appear to rise when value-added gains are really attributable to cheaper foreign inputs, not to the factories' intrinsic productivity per se.
Moreover, many economists and others have focused on a single, all-industries-combined measure of manufacturing output, observing that the ratio of real manufacturing value added to real GDP has been fairly stable. This macro measure, however, masks actual decline in most manufacturing sectors over the past decade. When you remove the one sector—computers and electronic products—that has shown major growth in value added, manufacturing's real value added fell 11 percent from 2000 to 2010.
Though some say our shrinking manufacturing work force reflects the inevitable movement of many lower-end jobs to other countries, new data debunk the notion that this is the ultimate fate of all advanced economies.
From 1970 to 2008, the U.S. share of world manufacturing output declined 12 percentage points, while China's rose 13 points; Germany and Japan finished about even. If slow-growing economies could hold their own in manufacturing over several decades, what's stopping us?
The ITIF answer to restoring U.S. manufacturing competitiveness lies in national economic policy that has not sufficiently addressed business needs in four key areas: taxes, technology, talent and trade. Their policy agenda calls for lowering corporate income taxes on manufacturing (currently among the world's highest) and beefing up tax incentives for R&D and other sorts of business investment (U.S. incentive generosity ranks 23rd globally).
Clearly, America's manufacturing work force needs more policy support for upgrading worker skills, ranging from highly educated designers and engineers to production-line personnel. And U.S. trade policy should be strengthened to more effectively stimulate exports, enforce intellectual property rights, and combat foreign mercantilist practices such as currency manipulation, closed markets and high tariffs.
American manufacturing is not on its death bed; neither is it booming. We need a concerted, multi-pronged policy approach to restore its shine.•
__________
Conover is director of the Indiana Business Research Center in the Kelley School of Business at Indiana University. Views expressed here are the writer's.
Please enable JavaScript to view this content.