When regional theaters around the country start to gravitate toward a particular play, it's tempting to play psychologist/sociologist and try to figure out why.

I'm not talking about theaters claiming the latest hot play. I have no doubt why every company seems to be doing "August: Osage County" or "God of Carnage" these days.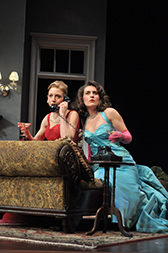 Two women imbibe while awaiting the arrival of a former lover in the IRT's "Fallen Angels." (IBJ Photo/ Perry Reichanadter)
Rather, I'm talking about plays that are plucked from the archives of theater history to become semi-hot again. Consider Shakespeare's "Twelfth Night" and "Julius Caesar," both of which have shown up in theaters with more frequency the last few years for no obvious reason.

It's happened recently with the early Noel Coward play "Fallen Angels," which is being done at the Indiana Repertory Theatre (through May 20) after recently being seen at Asolo Rep in Florida, Theatre Memphis, Philly's Walnut Street Theatre and more. It's like when a not-particularly-ground-breaking toy becomes all the rage during the holiday shopping season.

To be sure, there's fun to be had in "Fallen Angels,"

which concerns a pair of London gal pals who have in common marriages in need of spark and a past hot-and-heavy relationship with the same man.

The impending re-entry of that French lover into their lives (while their husbands are away golfing) sparks an evening of escalating, anticipatory drinking, which takes up much of the second of three short acts. I'll leave the will-they-or-won't-they to your discovery.

Fluff like this requires near-brilliant comic acting to make it feel like more than a three-episode sitcom arc. The IRT has pulled together a fine-but-not special production, with Steve Haggard doing the most with the least as husband Fred and Cristina Panfilio giving terrific physicality to wife/hostess Julia (her arms always seem to be creatively in motion, particularly when she gets her drink on). Director William Brown, who so deftly paced last season's "Around the World in 80 Days" here, is confined to a living room but still effectively keeps things moving.

So why the recent run on "Fallen Angels"—beyond the opportunity to sell it as a precursor to "Desperate Housewives"? It's playful. It's simple. It's got a small cast and a single set. Perhaps it speaks to a yearning we have for a time in our lives when we were actually capable of doing anything scandalous.

Or perhaps smartly written drunk scenes are just fun to watch.

Cheers.•

__________

This column appears weekly. Send information on upcoming arts and entertainment events to lharry@ibj.com.